This WEBINAR offers a unique opportunity for an up-close conversation with Ms Quah Ley Hoon, Chief Executive at MPA.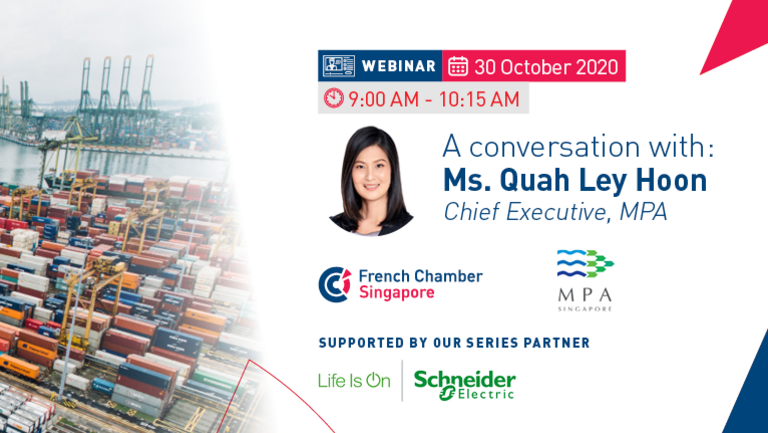 Ms Quah Ley Hoon will share an overview of the Maritime and Port Authority of Singapore(MPA).
The Maritime and Port Authority of Singapore (MPA) was established on 2 February 1996, with the mission to develop Singapore as a premier global hub port and international maritime centre (IMC), and to advance and safeguard Singapore's strategic maritime interests. MPA is the driving force behind Singapore's port and maritime development, taking on the roles of Port Authority, Port Regulator, Port Planner, IMC Champion, and National Maritime Representative. MPA partners the industry and other agencies to enhance safety, security and environmental protection in our port waters, facilitate port operations and growth, expand the cluster of maritime ancillary services, and promote maritime R&D and manpower development.
Ms. Quah Ley Hoon will also share the company's strategy, discuss about the Maritime And Port activities including digitalisation and decarbonisation initiatives, as well as MPA's new Tuas port.
Maritime and Port Authority of Singapore (MPA) also looks forward to collaborating with members of the French Chamber across different business areas.
The dialogue will be moderated by Stephane Courquin, Chief Executive Officer at CMA CGM Asia Pacific and Board Member at the French Chamber of Commerce.
Programme:
Opening remarks by Stephane Courquin, CEO at CMA-CGM Asia Pacific
Ms Quah Ley Hoon's presentation on MPA
Discussion moderated by Mr. Stephane Courquin
A Q/A session with questions from the Audience
Conclusion by HE Mr Marc Abensour, Ambassador of France to Singapore
About the speaker:
Ms Quah Ley Hoon joined the Maritime and Port Authority of Singapore as Chief Executive (Designate) on 1 November 2018, and was subsequently appointed the Chief Executive with effect from 1 January 2019. Prior to this, she was with MediaCorp as Chief Editor in Channel NewsAsia.
She has more than 12 years of work experience in the public sector ranging from economic policies to environmental and social policies, including the US-Singapore Free Trade Agreement, UN Framework Convention on Climate Change, and the National Population Secretariat.
Ley Hoon is on the board of Energy Market Authority, Movement for the Intellectually Disabled of Singapore (MINDS), National University of Singapore's Tropical Marine Science Institute and Centre for Maritime Studies, Singapore Chamber of Maritime Arbitration, Singapore Maritime Foundation, Singapore Maritime Institute, and the Technology Centre for Offshore and Marine, Singapore Ltd.
She graduated with a MBA from IMD Business School in Switzerland in 2010, and a Masters in Economics from the University of Pantheon Sorbonne, France in 2000. She also holds a degree on Psychology from University of Southern Queensland.
She was awarded the Public Administration Medal (Silver) in 2017.
Terms & Conditions
Full payment is required upon registration.
The link to join the Webinar will be sent to you 1 day prior to the event.
Should you need to cancel after payment has been made, please do so no later than two working days before the date of the event for a refund.
No shows will not be refunded.