The region's only premier B2B international trade event for companies in agri-food related industries.​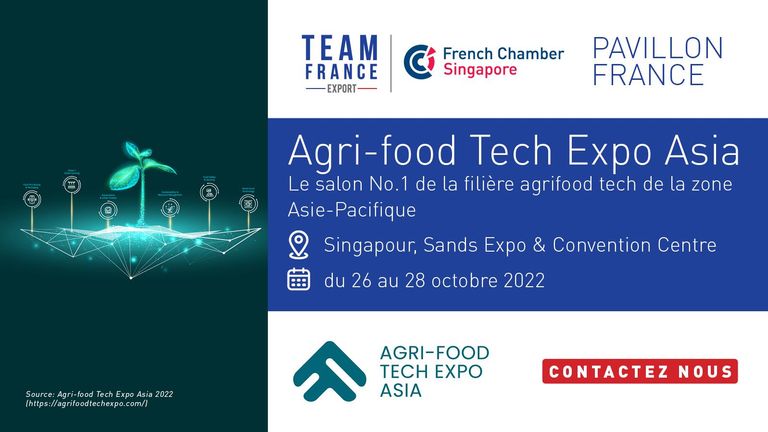 French entrepreneurs, if you have an innovative or alternative solution to handle global warming and urbanization challenges, come join us in our French Pavillon for this very first edition of the Agri-Food Tech Expo Asia / Superfoods and participate in the Future of food.
This event will bring together companies involved in the Agriculture 4.0 revolution, with strong concerns for sustainability, that are eager to meet and collaborate with partners, investors, and many other businesses from the industry.

The French Chamber of Commerce in Singapore is pleased to participate in this first edition and to organize on this occasion a French pavilion for national companies wishing to propose their solutions in ASEAN.
Agri-Food Tech Expo Asia provides a focused exhibition platform with a "living lab" environment, thematic experiential zones, sandbox and community-based learning for emerging and established industry players in the agriculture-food technology industry to launch, showcase and testbed their solutions.
The inaugural edition will showcase the key drivers in the 'Farm to Fork' value chain including Novel Food Technologies, Urban and Smart Farming, Aquaculture and Urban Protein Production and Food Safety & Security as well as Sustainability and Resource Management.
Agri-Food Tech Expo Asia will attract the ecosystem players including both local and global agribusinesses, growers, manufacturers, solutions and technology providers,esearch institutes, start-ups, investors, wholesalers and retailers.
For more information on how to be an exhibitor, please contact Wendy Chng Petit at wchngpetit(@)fccsingapore.com