Take part in the first edition of the Ambition Indopacifique Business Forum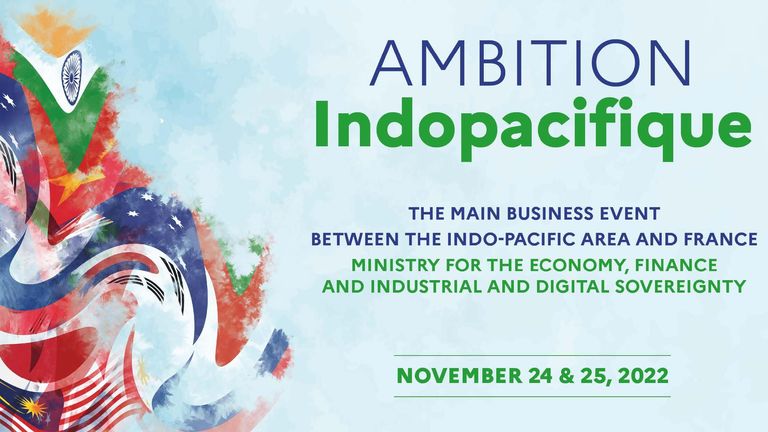 Under the High Patronage of Mr Emmanuel MACRON
President of the French Republic
Ambition Indopacifique is the main economic and commercial event for French and Indopacific relations, alongside ministers, ambassadors, high-level speakers and business delegations from across the Indopacific region.
More than 400 French companies are expected to take part in the event, as well as companies from Australia, Brunei, Cambodia, India, Indonesia, Japan, Laos, Malaysia, Philippines, Singapour, South Korea, Vietnam.
Ambition Indopacifique is organized over two days, which will include:
An in-person plenary session attended by French and Indopacific officials
Sectorial and cross-cutting thematic workshops
Digital B2B match-making meetings between French and Indopacific companies, and also between Indopacific companies from different countries
Presence of a community of experts
Networking cocktails
Ambition Indopacifique is a hybrid event which will take place at the Ministry of Economy, Finance and Industrial & Digital Sovereignty in Paris and will be simultaneously broadcasted live.
PROGRAMME
Thursday, November 24th,
from 8:00 to 7:00, French time
French Ministry of Economy, Finance and Industrial and Digital Sovereignty
139 rue de Bercy, Paris 75012
Metro lines 14 – 6 (Bercy station)
B2B meetings will be held in person the whole day

8:00 Arrival of participants, coffee and greetings
9:00 Official opening speeches
9:30 The challenges faced by the Indopacific in a world shattered by successive crises
10:15 Indopacific countries in global value chains
11:00 Doing Business in the Indopacific region
11:40 Agricultural and food issues: more than 2 billion people to feed
12:20 New ways of consuming and a booming e-commerce industry
1:00 Networking cocktails
2:00 Solutions to address the challenges of sustainable cities
2:50 Healthcare system: how to meet the new challenges that have arisen from the pandemic
3:40 What is the ideal energy mix for the Indopacific region and how to deal with the issue of decarbonation
4:30 Renewing transport infrastructures and logistics
5:20 How to strengthen maritime safety and foster blue economy in the Indopacific?
6:10 Tech & Industry 4.0: main triggers of growth in the Indopacific
7:00 Networking cocktails

Friday, November 25th
from 9:00 to 6:00 online, French time
Digital meetings

9:00-6:00 Digital B2B meetings to meet your future business partner

For further information, have a look at the dedicated website : Ambition Indopacifique 2022
REGISTRATION
Free participation for Indopacific companies (subject to availability of seats)
B2B meetings included
Access to all panels included
You will be required to fill in information about your company, your profile, and your search criteria for B2B meetings in order for us to create a tailored B2B matchmaking platform, based on your requirements.
Once your pre-registration has been validated by our regional offices, you will have access to a data base containing potential business partners for your
company, and you will be able to schedule B2B meetings with those that correspond to potential candidates, either in person or digitally.
Deadline to be featured in the event catalogue: November 3rd, 2022