Médecins Sans Frontières (MSF)/Doctors Without Borders will be hosting a virtual Corporate Missing Maps Mapathon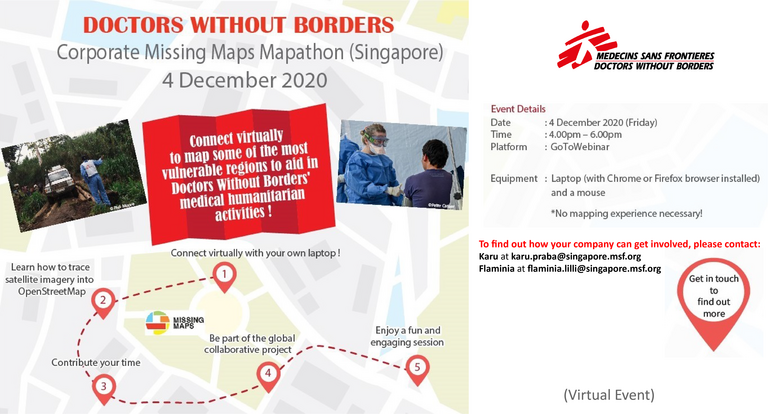 It aims to engage corporate volunteers and bring them together to map unmapped places around the world.

Many disaster-prone areas where MSF works, are to date "missing" from any digital map. First responders like MSF frequently lack basic information to make valuable decisions regarding relief efforts, and have even been known to rely on hand-drawn maps.

Mapathons bring together volunteers to digitally map these unmapped places in the developing world. Humanitarian organisations like MSF can then use these digital maps to better respond to crises affecting these areas.
This corporate mapathon will see the participation of many companies on the same day so it is a very exciting event, and we would absolutely love for your company to join in this fun session and do some mapping for a good cause.

*All you need is a laptop, a mouse and stable WiFi connection
*No mapping experience required

Please contact Karu (karu.praba@singapore.msf.org) and Flaminia (flaminia.lilli@singapore.msf.org) for more details and registration

Doctors Without Borders/ Médecins Sans Frontières(MSF) is an international medical humanitarian organisation that provides free, quality medical assistance in over 70 countries to people affected by armed conflict, epidemics, natural disasters and exclusion from healthcare.