Invitation to Employer Visit to Army Capabilities Display @Sungei Gedong Camp on 16 Mar 23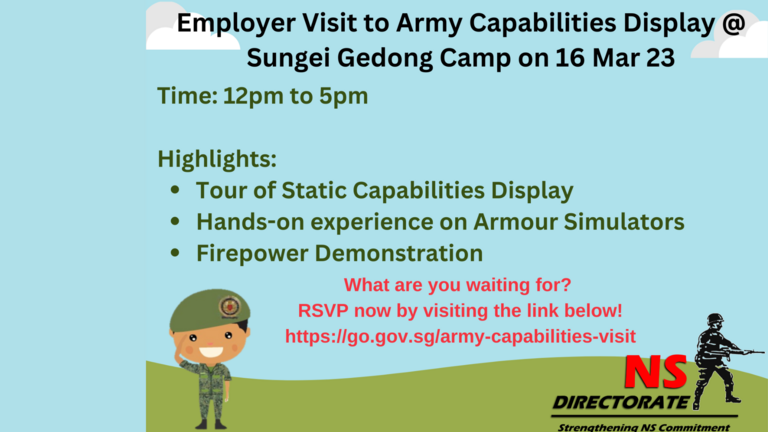 Dear Supportive TACs,
We would like to extend the invitation to the Employer Visit to Army Capabilities Display @ Sungei GedongCamp on 16 Mar 23 to you and your members. MINDEF organises visits to military camps and National Service (NS) training for our supportive stakeholders to allow better understanding of the platforms that our National Servicemen (NSmen) operate on and how NS training is conducted.
The Army Capabilities Display will highlight the key capabilities of the 3rd Generation Army. Besides viewing the Army Static Capabilities Display, you can also get the opportunity to have hands-on experience with the Armour Simulators.
The details of the visit are as follows:
Date:

16 Mar 2023, Thu

Time:

12.00pm to 5.00pm

Venue:

Sungei Gedong Camp

Time

Programme

12.00pm

Registration and Networking

Lunch

1.00pm

Welcome Address

Programme Brief

1.30pm

Tour of Static Capabilities Display

2.15pm to 5.00pm

Hands-on experience on Armour Simulators

Firepower Demonstration

5pm onwards

Free & Easy at Capability Display
For security reasons, entry into Sungei Gedong Camp is strictly by registration only. As we have a limit to the number of guests we can admit (2 per company), kindly RSVP by 22 Feb 23, Wed, by either scanning the QR code below or visiting the link: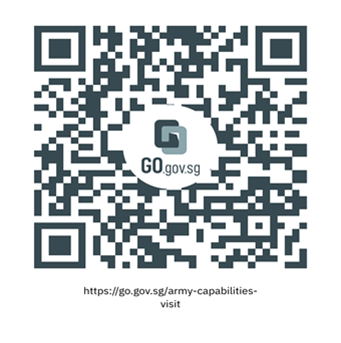 Event Location