Le plus français des humoristes "british", il y aura des blagues en français and there'll be jokes in English.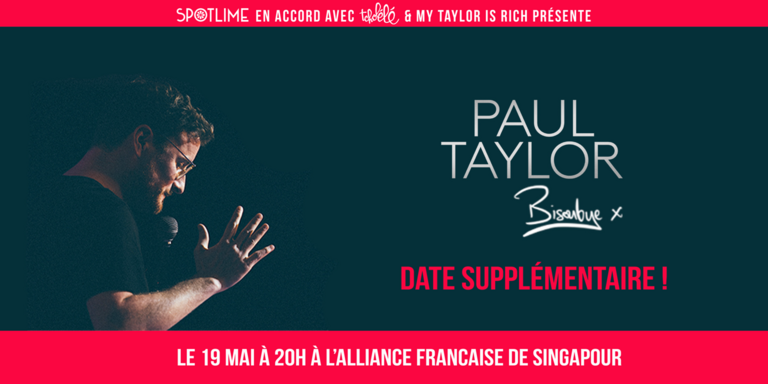 Après avoir joué son premier spectacle à Shanghai et Hong Kong en 2017 avec Spotlime, Paul Taylor revient en Asie en mai 2023 avec son troisième spectacle « Bisoubye x ».
Il jouera les 19 et 20 mai à Singapour à l'Alliance Française après avoir joué à Bangkok le 18. Le spectacle du 20 mai est déjà complet.
Comme les spectacles précédents de Paul Taylor,« Bisoubye x » est un spectacle bilingue français-anglais (sans sous-titres).
Résumé du spectacle
Salut, hi!
Je m'appelle Paul, je suis Anglais et j'habite en France. J'ai fait deux spectacles bilingues intitulés "#FRANGLAIS" et "So British ou presque". They both went really well, so I'm doing a third show ! Jamais deux sans trois, right ? À part les enfants. Dans ce cas là, un seul suffit ! One and done.
It's called "Bisoubye x" and as the name suggests, the show is about having to say goodbye to a certain number of things in my life to be able to move on to the next chapter.
Si t'as déjà vu mes deux premiers spectacles et toutes mes vidéos sur les réseaux, ne t'inquiète pas, ce sont des nouvelles blagues (oui oui, il y en a qui bossent !).
Le concept reste donc pareil. Il y aura des blagues en français and there'll be jokes in English. It's a live show so there are no subtitles, donc ramène ta pinte et ton dictionnaire !
Paul Taylor
L'humoriste
Humoriste britannique, Paul Taylor vit à Paris depuis 2009. Passionné de stand-up, il fait ses débuts sur scène en 2016 avec son premier spectacle bilingue « #FRANGLAIS ». Un show dans lequel il nous partage ses expériences d'expatrié en France, souvent liées aux quiproquos linguistiques.
Entre 2016 et 2019, Paul a également créé du contenu audiovisuel pour le groupe Canal +, d'abord avec ses programmes courts « What The Fuck France » et « What's Up France », puis avec sa série documentaire « Stereotrip ». Sa marque de fabrique : décrypter avec un humour décapant, mais toujours bienveillant, les petites manies et habitudes culturelles des Français et de nos voisins européens ! Grâce à ces formats, Paul devient très vite un phénomène sur les réseaux sociaux. Près de 200 millions de vues cumulées, des milliers d'abonnés sur Instagram, Facebook ou encore YouTube. Il se transforme également en humoriste à succès, remplissant les salles les plus prestigieuses à Paris, en France et partout dans le monde.
Son deuxième spectacle « So British ou presque » débute alors en octobre 2019 et aborde des sujets plus personnels comme la parentalité et la crise d'identité. Après un arrêt brutal à cause de la crise sanitaire du Covid-19, les représentations reprennent, le succès est à nouveau au rendez-vous. Paul jouera « So British… » et affichera COMPLET au Grand Rex à Paris ou encore l'O2 Sheperd's Bush Empire à Londres, salle où il fera la captation de son spectacle, disponible dès à présent sur Youtube en intégralité. Vous pouvez le visionner ici.
Fin 2022, il décide de lancer son troisième spectacle, « Bisou Bye x ». D'abord en rodage à la Scala Paris, lors de 19 représentations affichant COMPLET, il a ensuite fêté ses 10 ans de carrière à la Cigale, le 4 janvier 2023 ! Il sera à la Nouvelle Eve du 19 janvier au 1er avril 2023, puis partira en tournée dans le monde entier ! Le phénomène Taylor n'en est qu'à son début.
Informations billetterie
Dates :
• 19 mai 2023 à 20h - COMPLET
• 20 mai 2023 à 20h
Tarifs :
• 65 SGD en prévente - COMPLET
• 75 SGD en billet standard