Rejoignez-nous pour en savoir plus sur les produits structurés!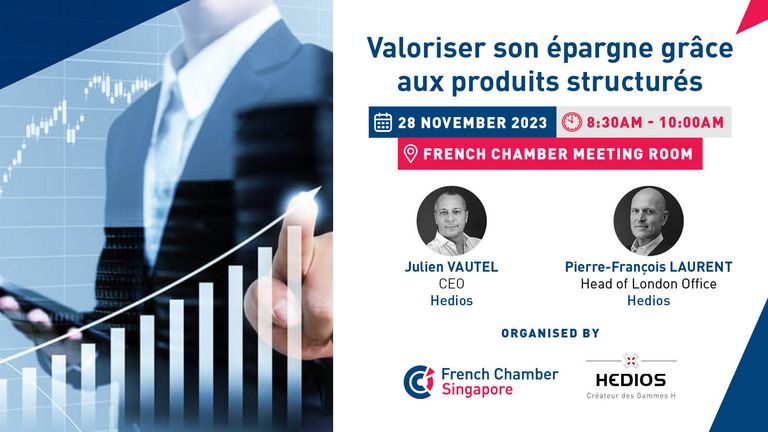 Cet événement est l'occasion de découvrir ou de mieux comprendre cet instrument financier.
Nos experts, Julien Vautel et Pierre-Francois Laurent, concepteurs de produits structurés reconnus en France et à l'étranger par les investisseurs particuliers, vous donneront des clés pour Valoriser votre épargne grâce aux produits structurés.


A propos de Hedios
Concepteur de produits structurés, Hedios propose son offre directement sur Internet. Ses conseillers experts vous accompagnent par téléphone.
Hedios concentre toute son expertise sur la seule classe d'actifs des produits structurés de conviction, dont elle est aujourd'hui la référence, en France comme a l'étranger, auprès des investisseurs particuliers.
Tout en encadrant au mieux les risques, ses résultats depuis 15 ans lui ont permis d'obtenir plusieurs prix, dont celui de la meilleure performance Europe 2022 et la meilleure performance France 2022 et 2023 (SRP Europe Awards). Leurs produits structurés, dénommés "Gammes H", sont ouverts aux investisseurs particuliers et aux sociétés patrimoniales.
Terms & Conditions:
Please note that photographs and videos may be taken during the event for news and publicity purposes.
For more information, please contact Coralie Vincens cvincens(@)fccsingapore.com
En partenariat avec