Companies news
Culinary Show & Tastings at FHA 2022, a taste of European charcuterie excellence through the European Delicatessen Experience Campaign.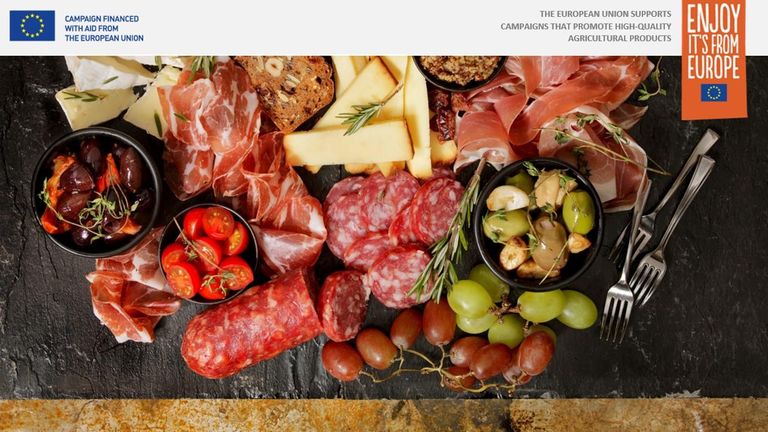 The FICT (French federation of charcuterie and deli meat companies) presents the Culinary Show, taking place at FHA 2022, in Singapore, on September 7th, featuring a live cooking show led by the chef Felicien Cueff and followed by tastings and a buffet.
This special event will present a selection of European delicatessen specialties to the public as part of the "European Delicatessen experience" campaign.
The "European Delicatessen experience" campaign is organised by the FICT and co-financed by the European Union. Through a series of events and communication activities in Singapore, Vietnam, and Thailand, it aims to raise awareness of the quality of European delicatessen products available in these countries. It also provides local consumers with creative ways to integrate delicatessen into their diets, recipes, and lifestyles.
At this special event, professionals, importers/distributors, and the press will have the opportunity to explore and appreciate the quality of European charcuterie.
A selection of charcuterie will be presented during a live culinary show, on Wednesday 7 September 2022, led by Chef Félicien Cueff. This French chef has 35 years of experience in 3-star Michelin restaurants in Europe, the USA and Asia. Our guests will have the opportunity to taste each creation presented in front of them and may even participate, for the luckiest of them. It doesn't stop there: several tastings will be organised throughout the FHA (5th to 8th September 2022) with the creation of charcuterie recipes and beautiful charcuterie boards. Enjoy it, it's from Europe!
The overall aim of the three-year campaign is to increase the attractiveness of European products and strengthen their competitive position in the market through various marketing actions. From 2021 to 2024, the campaign includes in-store tastings, a press delegation to France, company delegations to Vietnam to present their products and delegations of Singaporean, Vietnamese, and Thai importers to meet with French delicatessen professionals.
Visit European Delicatessen Experience to find our brands in Singapore, and follow us on Instagram @europeandelicatessenexperience and on Facebook to stay updated!
Contact:
Benjamin KECH
Head of Business Development
The French Chamber of Commerce in Singapore on behalf of the FICT
+65 8804 3598
Organizer:
The FICT
The FICT represents French charcuterie and deli meat companies. Founded in 1924, FICT acts on behalf of 310 companies (90% of which are SMEs), located across the country, which employ 32,500 people, support 135,000 jobs and generate 6.7 billion euros in annual sales, 7.1% of which in exports. Eighty-four percent (84%) of the 1.2 million tons produced are made with pork. The charcuterie industry processes over 75% of the French pork production.
This campaign is led by the FICT organization with aid from European Union.
The content of this promotional campaign represents the views of the author only and is his/her sole responsibility. The European commission does not accept any responsibility for any use that may be made of the information it contains.