FOUCS 71: An Environmentally-Friendly Working Space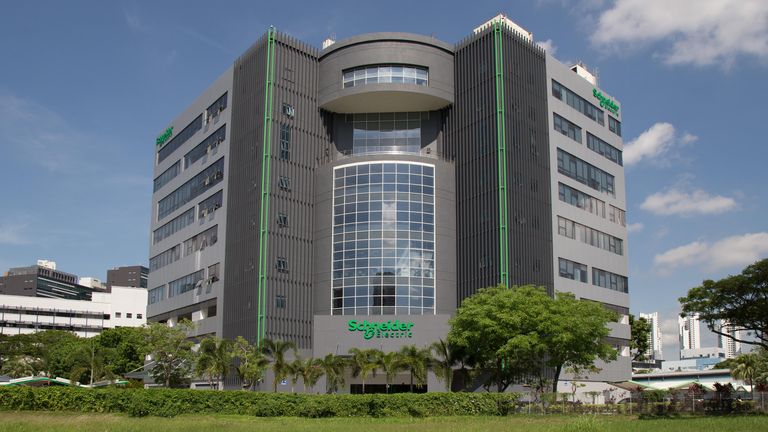 Damien Dhellemmes, Schneider Electric Singapore Country President, talks about how the company's new regional headquarters are rooted in sustainability.
Schneider Electric's carbon neutral, energy efficient building in Singapore
At Schneider Electric, our East Asia and Japan regional headquarters in Singapore will become a carbon neutral building by the middle of 2020, six months ahead of schedule. Originally a 25-year-old multi-tenant building, Schneider Electric retrofitted it with smart building technologies into a BCA Green Mark Platinum (Existing Non-Residential Building Pilot Version 2017) building. In September 2019, the building was awarded the Leadership in Sustainability & Performance award by Singapore Green Building Council – Building Construction Authority.
With a total gross floor area of 18,500m2 and housing 1,400 employees, this is Schneider Electric's first building in East Asia & Japan to use a hybrid electricity power source powered by solar panels installed onsite and offsite. Magnetic-bearing chillers and in-house analytic system controls help to monitor the reliability of sensors installed and building operation data measured. Green design elements such as light-emitting diode (LED) lights are retrofitted for all common areas such as corridors, toilets and staircases. The staircases are mechanically ventilated, and all toilets are naturally ventilated.
Office workspace areas such as meeting rooms and common workspace areas are also installed with occupancy sensors for the lightings. Energy-efficient air conditioning systems also reduces the building's energy consumption. During the day, the building is fully supplied with solar power. With the solar-blended power supply and Microgrid Advisor, carbon footprint is reduced by up to 45%. Carbon emissions are also reduced by 1,253 metric tonnes per annum, which is equivalent to 358 cars, or 2.0cc, off the road.
For employee well-being, the office interior is thoughtfully decorated with indoor plants to help bring about biophilic benefits among occupants. A rooftop garden is also available for employees to engage in nature within a built environment. Functioning not only as an office space, the headquarters also houses an innovation hub for software engineers, solution architects and research scientists to deepen R&D capabilities of the EcoStruxure platform. To ensure long-term and sustainable energy efficiency, we leverage connected smart sensors and big data analytics to monitor and control the energy management of the building, while maintaining the comfort and well-being of employees in their working environment.
Supporting local digitisation with sustainability in mind
We regularly share our energy reduction best practices with visitors to the Schneider Electric Innovation Hub, who are able to see how data-driven technology can be applied to their own offices, buildings and factories. Schneider Electric currently collaborates with more than 50 SMEs in Singapore in go-to-market operations and digitalisation programmes, and works with distributors to set up e-commerce platforms to allow them to perform 80 per cent of their transactions digitally.
As part of our global innovation programme, we recently announced a commitment of almost S$16 million over the next four years to incubate and develop up to four Singapore-based companies with global growth potential. Through our expertise in energy management, industrial automation and digital transformation, we aim to support the local companies in going global by providing our market access and understanding of the global supply chain.
Energy-efficient initiatives and renewable energy projects continue to demonstrate clear financial benefits, and we are confident that efforts in planning for sustainability will pay off greatly for those who decide to embark on this path.
Interview with Damien Dhellemmes, Schneider Electric Singapore Country President for FOCUS #71. To read more articles from this issue, download your digital copy here