The Chamber • Services
French Beauty Tour ASEAN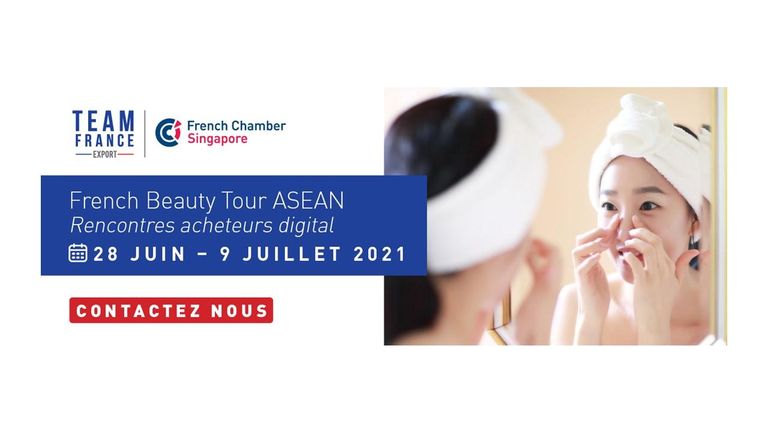 Between June 28 to July 9, join us for two weeks of webinars and online B2B meetings to discover trends in the beauty industry in South East Asia.
Get insights on the beauty market in South East Asia, and hear from French companies in the global beauty sector!
Business France teams in Indonesia, Malaysia, Thailand and Vietnam & the French Chamber of Commerce of Singapore will be organizing the French Beauty Tour 2021 from June 28 till July 9. This event will be a chance to discover business opportunities in the cosmetics sector in South East Asia and meet potential partners.
To better understand these markets and meet with prospects, register here or contact us here and download our brochure. The French Chamber of Commerce in Singapore (FCCS) will support you in your prospection in Singapore.
__________________________________________________________________________________________________________________________________
Du 25 mai au 11 juin, rejoignez-nous pour deux semaines de webinaires et de rendez-vous B2B en digital pour découvrir les tendances de l'industrie des cosmétiques en Asie du Sud-Est.
Obtenez des informations sur le marché des cosmétiques en Asie du Sud-Est et rencontrez les acteurs majeurs du secteur !
Les équipes de Business France en Indonésie, en Malaisie, en Thaïlande et au Vietnam et la Chambre de Commerce Française de Singapour organisent le French Healthcare Tour 2021 du 25 mai au 11 juin prochain. Cet événement sera l'occasion de découvrir des opportunités d'affaires dans ce secteur et de rencontrer des partenaires potentiels.
Pour mieux comprendre ces marchés et rencontrer des prospects, inscrivez-vous ici ou contactez-nous ici et téléchargez notre brochure. La Chambre de Commerce Française de Singapour (FCCS) vous accompagne dans votre prospection à Singapour.