Companies news
INAUGURATION OF LYS ENERGY ROOFTOP SOLAR PV SYSTEM AT DECATHLON'S FIRST INDONESIA STORE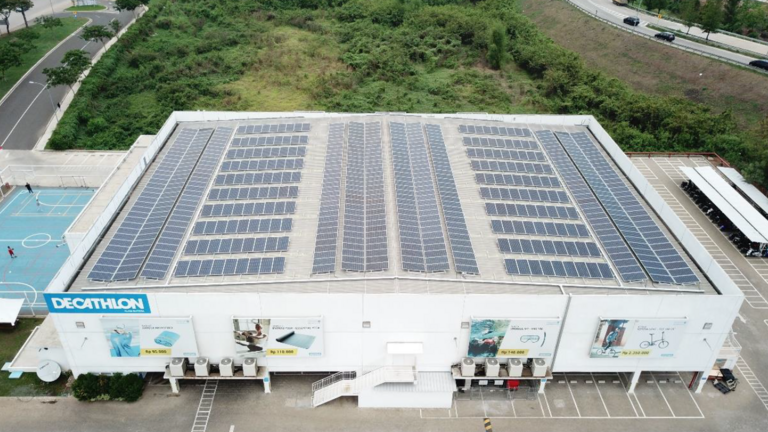 On November 24th, 2019, LYS Energy Group inaugurated Decathlon's rooftop solar PV system along with his local turnkey partner PT Alfa Service Solusi
With 1,500 stores across 50 countries, the fast-growing French sporting goods retailer Decathlon goes cleaner and greener to tackle climate changes with clean energy adoption initiative. For its first store in Indonesia and to address its sustainability commitment to RE100 – aiming to go 100% renewable power for their global operations by 2026, Decathlon partnered with LYS Energy Group, a Singapore-based pioneer independent power producer (IPP) that offers end-to-end solar energy solutions across the region.

Selected as the trusted partner in renewable energy (RE) for Commercial & Industrial (C&I), LYS Energy Group rethought the Client's energy-use model and delivered a tailored full turnkey solution which comprises the installation of a 214.32kWp solar photovoltaic (PV) system atop of 2000m2 Alam Sutera's store, in Jakarta capital metro commercial zone.

The facility is equipped with a total of 564 high efficiency Mono-PERC tier-1 solar modules, and 4 latest multi-MPPT string inverters with enhanced safety features. The entire project – from design to installation – was carried out by
LYS Energy Group and its local partner PT Alfa Service Solusi with emphasis on for compliance with best-in-class manufacturing and engineering Quality as well as Health Environment and Safety (HSE) standards. The construction
phase was smoothly and reliably completed within three months by its trustworthy local partner. The energy generated since the commissioning is entirely used to power the store's daily operations and reduce the store's
annual CO2 emissions by approximately 230tonnes.
Beyond this collaboration, Decathlon became a prosumer where rather than simply consuming green energy, the company is generating its own which has enabled Alam Sutera store's energy transition to become self-sufficient.
LYS Energy end-to-end carbon solutions help companies such as Decathlon lead by example and turn risk assessments related to low-carbon transition into innovation.
Decathlon's rooftop solar PV project in Indonesia is the outcome of relentless work of seasoned experts, and a strong and successful collaboration with topnotch partners at every stage of the process – environmentally responsible and committed partners work hand-to-hand towards a carbon-free future. This new rooftop solar PV project strengthens the leading solar integrator's expertise and presence in Indonesia to over 10MW.