Logic Jets partners with Triple-A to accept cryptocurrency payments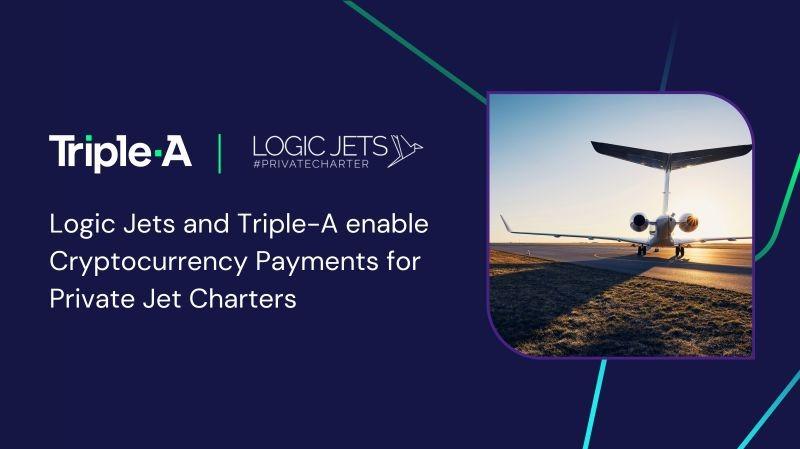 Accepting cryptocurrency payments has become an increasingly popular option for businesses looking to expand their payment options and reach a wider customer base. Cryptocurrency, such as Bitcoin (BTC), Ethereum (ETH), or Tether (USDT), operates on a decentralized network and offers several advantages over traditional payment methods, such as faster transaction speeds and lower fees. However, accepting crypto payments requires sound technical knowledge, that's why LOGIC JETS has proudly partnered with top of the line tech start-up TRIPLE-A, for the safe processing of such payments, offering our customers this new smart option via a secure and reliable platform.
Why Crypto Payments for Air Travel?

Global Accessibility
Cryptocurrencies transcend borders, eliminating the limitations of traditional payment systems. Enable 420 million crypto owners to book air travel with you, from anywhere and any crypto wallet.

Fast Transactions
Forget about delays caused by intermediary financial institutions. With crypto payments, you empower customers to secure their flights on the spot, while ensuring you enjoy next-day bank settlement.

Cost Efficiency
Unlock significant cost savings by reducing transaction fees and eliminate the possibility of fraudulent chargebacks.

Volatility Free
With next-day bank settlement, you do not need to directly handle cryptocurrencies. Unlock all benefits of crypto payments with zero volatility exposure.

Join Logic Jets, embrace crypto payments and take flight into the future!
SOURCE: Triple A & Logic Jets