Event report
Past Event| Digital Freight Ecosystems, and How Blockchain Technology Could Play a Part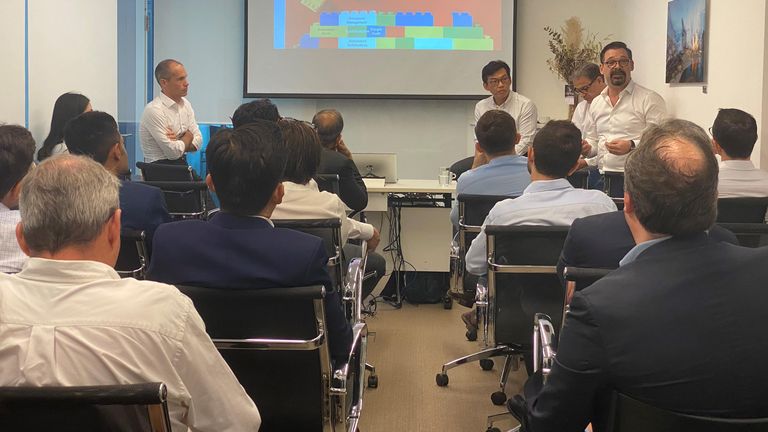 The French Chamber of Commerce held an interactive in-person dialogue on the 14th October, covering digital freight ecosystems and how blockchain technology could play a part, and welcoming over 30 supply chain managers & members of the Committee. Through presentations and case studies, our speakers shared about the applications, benefits, and challenges of blockchain to ensure effective and secure sharing of data, and how cloud-based, blockchain-enabled freight management systems will contribute to the transformation of the supply chain industry.
Our sincere thank you to the panellists:
Mr. Arnaud Rastoul, VP APAC at Buyco
Mr. Ivan Seow, Co-Founder & Chief Supply Chain Officer at Trames
Mr. Eric Grégoire, CEO at Goodpack
Facilitated by Mr. Ludovic Sichere, VP APAC at Imerys and co-president of the Supply Chain and Logistics Committee at the FCCS
Highlights and Key Learnings
A freight digital ecosystem is not a transport management system
Digital Freight Ecosystems – it is about Filling-In-The-Blanks within your Supply Chains
Blockchain drives TRUST to regulate the issuance, endorsement, transference, and the surrendering process of the BL across the supply chain.
Capacity Demand, Blockchain Framework, Underlying Source and Common Language – All the right elements to make the pilot successful
Digital Freight EcoSystem present wide-ranging applications, depending on where they are implemented
This event was kindly sponsored by our committee partner Bolloré Logistics.
For more information about the Supply Chain and Logistics Committee, please contact Emily Jiang ejiang(@)fccsingapore.com
Access the speakers' presentation (only for members)