Event report
Past Event | France Reception:Roundtable Discussion & Networking Event - Singapore Maritime Week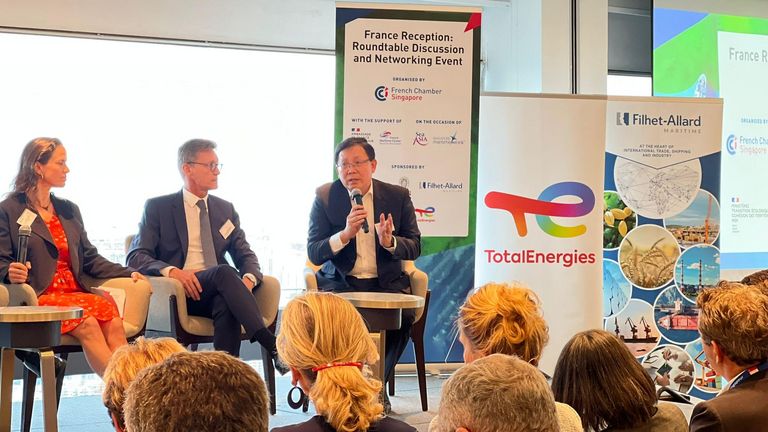 Exciting news from the Singapore Maritime Week and Sea Asia! The French Chamber of Commerce in Singapore, in collaboration with the French Embassy in Singapore, the French Maritime Cluster, and the Maritime Committee, organized a remarkable roundtable discussion Tuesday 25th April and networking event to showcase the French Maritime Sector's efforts towards decarbonisation.
This event brought together key experts from the industry to share the latest technological advancements and innovations involved in the energy transition, including the use of LNG as marine fuel, zero carbon maritime fuels, and fuel-saving practices for the shorter term. The discussion also highlighted the ways in which France and Singapore can enhance their cooperation and work together in the future.
Congratulations to our speakers and moderator and all those involved in making this event a success!
Mrs. Caroline Yang, President of Singapore Shipping Association (SSA) and Chief Executive at Hong Lam Marine
Mr. David Colson, Commercial Director at Gaztransport & Technigaz (GTT)
Mr. Francois-Xavier Accard, Managing Director of CMA CGM International Shipping Company Pte Ltd
Mrs. Louise Tricoire, VP Marine Fuels at TotalEnergies Marine Fuels
Mr. Matthieu De Tugny, Executive Vice President at Bureau Veritas Marine & Offshore
Mr. Tham Wai Wah, Chief Engineer (Engineering and Project Management), Chief Sustainability Officer (Sustainability Office) at Maritime and Port Authority of Singapore (MPA)
Moderator Mr. Pierre Carassus, Co-Head of Maritime Industries, Asia Pacific at Société Générale
Thank you to our sponsors of the event: the French Ministries of Ecological and Energy transition, Bureau Veritas, Filhet-Allard, GTT and TotalEnergies for their kind support.
For more information please contact Lydia Fulton lfulton(@)fccsingapore.com and Emily Jiang: ejiang(@)fccsingapore.com