Event report
Past Event | Project Management: 5 keys to tear down the wall between Waterfall and Agile!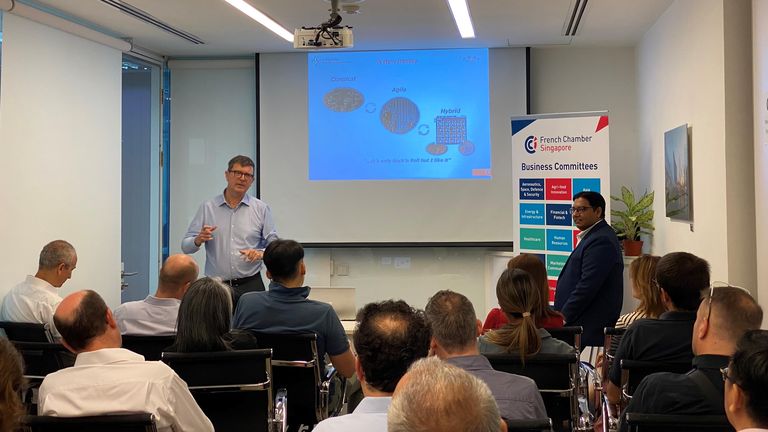 Many thanks for attending our Project Management: 5 keys to tear down the wall between Waterfall and Agile! event yesterday morning.
It was really great to see so many of you there and hope you have enjoyed the session.
Thank you very much to our esteemed speakers, Stephane Derouin and Rishi Mehta for a very insightful presentation.
Please find below their key learnings and details if you wish to reach out to them:
Agility mindset and Agile framework are not an option today.
There is no single approach that can be applied to all projects all the time.
To support value realization, project teams shift focus from deliverables to the intended outcomes.
Project value delivery is a spectrum of approaches: Waterfall, Agile and Hybrid.
At demand-level a tailored decision grid to select the right path is a must. Objective must be use "Just enough" process to achieve the desired outcome while maximizing value.
To succeed in our VUCA world we need to develop skills and organizational maturity on hybrid project management.
Stephane Derouin
Head of practice at d²X Expertise, co-founder of the Project Management Institute (PMI) France
Email: sderouin(@)d2x-expertise.com
About d²x Expertise: d²x Expertise is a global IT service consulting organization specialized in Project management, Service Management and Contract Management roles.
Since our foundation in France in 2008, we have been providing IT Service Directors and CIOs with a full range of services to secure their commitments and drive their transformations. Our Singapore branch was created in 2014 and we have references in a wide range of industries (Manufacturing, Insurance, Financial services, Logistics, ...). Contact: fdalbronn(@)d2x-expertise.com.
Rishi Mehta
Head of Project Delivery Services - Asia at Azqore
Email: rishi.mehta(@)azqore.com
About Azqore: A next generation Information Systems and banking operations provider, Azqore, a subsidiary of Indosuez Wealth Management, the wealth management branch of the Crédit Agricole Group, is a global company that is committed to providing wealth managers with integrated turnkey solutions for their digital needs. From its headquarters in Switzerland and its Asia branch in Singapore, Azqore currently supports up to thirty clients on its proprietary S2i platform, with assets of approximately CHF 200 billion.
This event was kindly supported by our Committee Partner Dassault Systèmes
For more information about the Tech& Innovation Committee, please contact Lydia Fulton lfulton@fccsingapore.com