COVID-19 • Companies news
Singapore Government announces plans to allow more people to return to the workplace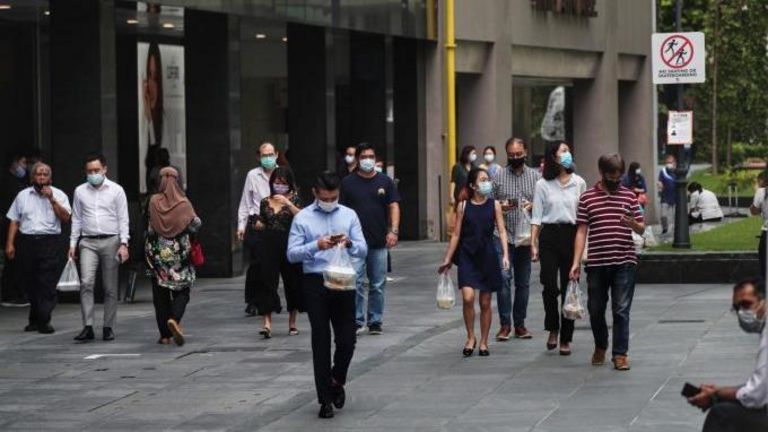 As the number of community cases has remained low, the Multi-Ministry Taskforce will ease measures to facilitate business operations, by supporting essential business travel, and enabling more employees to return to the workplace. In recognition of the importance of religious and particular social activities, we will also be expanding the capacity limits for worship services and wedding receptions.

We are also stepping up measures to support earlier detection of potential COVID cases and a safer living and working environment for all.
ENABLING MORE EMPLOYEES TO RETURN TO THE WORKPLACE SAFELY
The Ministry of Manpower (MOM) has updated the Requirements for Safe Management Measures (SMM) at the Workplace to continue to ensure safe workplaces for all. These updated requirements will take effect from 28 September 2020.

More employees may return to the workplace
Working from home remains the default mode of working. We will allow more employees (presently working from home) to return to the workplaces. But employers must ensure that (i) such employees continue to work from home for at least half their working time, and (ii) no more than half of such employees are at the workplace at any point in time [1].
With more employees returning to the workplace, employers should play their part in minimising crowding and possible congregation at common spaces, including on public transport. They can do so by:
Implementing flexible workplace hours to allow employees who can, to work partly at home and partly at the workplace such that they travel outside of peak periods, e.g. blocks of 10am-4pm or 1-5pm in-office hours, or return to the workplace only for meetings and work-from-home the rest of the time.
2. Further staggering of reporting times such that half of all employees start work at or after 10am.
3. In addition, split team or shift arrangements must continue to be implemented, with each team restricted to one worksite where possible. Employers must also ensure clear separation of employees on different teams or shifts.

This update has been carefully considered to balance the concerns of employers regarding the impact of extended periods of working-from-home on productivity and workplace relations, while creating safe workplaces for employees. This will also support employees who face particular difficulty working-from-home. As these measures will need to be in place for some time, we encourage employers to ensure that work-from-home arrangements are implemented in a sustainable manner to enable employees to maintain work-life balance while continuing to meet business needs.


Events within the workplace may resume

Work-related events within the workplace premises that are business-oriented (such as conferences, seminars, corporate retreats, Annual General Meetings and Extraordinary General Meetings) will be allowed to resume, for up to 50 persons (or lower depending on venue capacity based on safe management principles) with strict adherence to SMM requirements e.g. at least 1 metre safe distancing between each employee. We will consider allowing the resumption of work-related events at external venues at a later date. We will also update the safe management measures for workplaces in certain areas (e.g. rules on staff having their meals at staff canteens), taking reference from prevailing national guidelines. More details will be released by MOM later.

As per existing guidelines, employers must not organise or encourage larger scale social gatherings within or outside the workplace such as parties, celebrations, team bonding activities, dinner-and-dance (D&D), and gala dinners.

Workplace SMM necessary for safe working environments

To reduce the risk of transmission with the gradual resumption of activities, employers must continue to ensure clear physical spacing of at least 1 metre and demarcate safe physical distances:

a. Between all persons at meeting rooms, work areas, and workstations; and
b. At all times during work-related events held at the workplace.

In addition, employers must continue to ensure good workplace SMMs such as controlling access at the workplace and cleaning of common spaces regularly. Employees should also do their part in adhering to the measures to create a safe working environment.

The tripartite partners – MOM, the National Trades Union Congress (NTUC) and the Singapore National Employers Federation (SNEF) will continue to review the requirements periodically to take further developments into account, such as updated medical advice, technological updates and operational practices. These updates will help employers to keep workplaces safe amidst the fluid COVID-19 situation, while streamlining processes where possible.

To continue to ensure safe workplaces for all and minimise the risk of widespread re-emergence of COVID-19 in the community, the onus is on employers and employees to comply with the SMM requirements, including the use of SafeEntry to check-in all employees and visitors as required. Non-compliance with SMMs may result in penalties such as suspension of on-site operations, fines, and withholding of payouts for government support schemes and grants. More severe violations of SMMs may result in prosecution. The SnapSAFE app may continue to be used to report any breach of the requirements at the workplace.
Source: MOH
Photo Source: Business Times