Companies news
TechBinder and Schneider Electric join forces for Augmented Reality proposition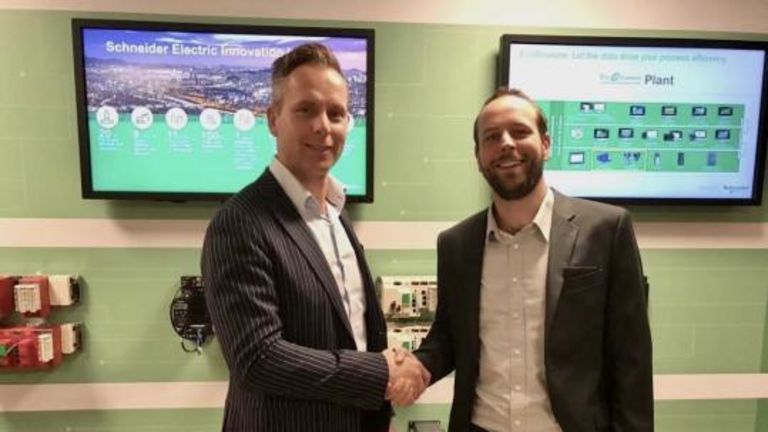 November 28th, 2019 – Yesterday, TechBinder and Schneider Electric signed a long-term cooperation and innovation agreement. With this agreement both companies join forces to bring the EcoStruxure value proposition to maritime and process industrial segments.
The focal point of the partnership is proposition of EcoStruxure Augmented Operator Advisor. This allows its users to collect, compile and visualize data from complex installations through Augmented Reality.
Augmented Reality for real-time diagnosis and simplified maintenance
EcoStruxure Augmented Operator Advisor presents contextual information as well as real-time data of machines and enables users to project virtual objects onto the existing installation. It enables operators to easily detect faults and solve them immediately making use of the provided documentation. The software enables logging and completion of step-by-step procedures, simplifying operator transfer and training. This enables the operator to gain insight into complex installations, improve efficiency of maintenance and reduce downtime.

TechBinder supports maritime and industrial segments to make the most of their existing installations by visualizing data and presenting the right information where needed. Augmented Reality increases the number of possibilities. In January, students from Utrecht University of Applied Sciences will present the results of the first pilots. The aim of these pilots is to investigate and test new applications and to use this information to market the joint proposition as quickly and effectively as possible.

Joining forces for digital transformation
"Combining Schneider Electric's extensive portfolio and TechBinder's flexibility enables both parties to accelerate innovation and realize new applications," says Bram van den Boom, Founding Partner of TechBinder. "EcoStruxure is the ideal platform for innovation based on big data with technologies such as Augmented Reality."

"This partnership is a great way to accelerate the launch of software solutions in a receptive market. What's better than to be implementing this together with a former employee of Schneider Electric?" adds Sander van Dasselaar, VP Industry at Schneider Electric. "The close cooperation between TechBinder and Utrecht University of Applied Sciences allows students to familiarize themselves with the state-of-the-art solutions Schneider Electric has to offer. In this case, one plus one equals three!"

Both parties view this agreement as a ratification of their existing cooperation and the beginning of a long-term partnership that accelerates innovation and harnesses the great potential of the digital transformation.
Source: https://www.persberichten.com/