Webinar • Event report • Webinar
WEBINAR: Stress and Anxiety Management During COVID-19 Circuit Breaker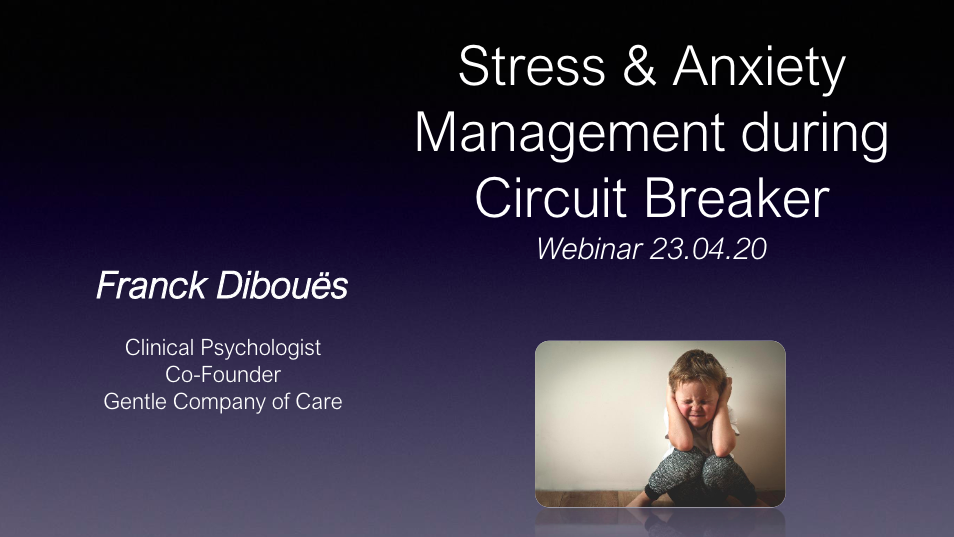 Franck DIBOUES, psychologist and co-founder of GENTLE COMPANY OF CARE gave an overview of the definitions of stress and anxiety with clinical example
In the midst of this exceptional situation, stress and anxiety can arise more easily. Franck DIBOUES, psychologist and co-founder of GENTLE COMPANY OF CARE gave an overview of the definitions of stress and anxiety with clinical examples and few tips to deal with them.
Stress management programs or stress management interventions allow people to reduce level of stress felt. They are important in preventing and treating excessive stress.
Anxiety is a symptom often felt by people overwhelmed with stress. According to the level of anxiety and how it is showed, some type of psychotherapies can help people cope with their discomfort.
Thank you Franck and the participants for taking part in this webinar.
Access the webinar video (Only for members)
Access the presentation (Only for members)