Unlocking a sustainable future : Join us to listen and interact with key expert Olivier Blum on championing sustainability journey.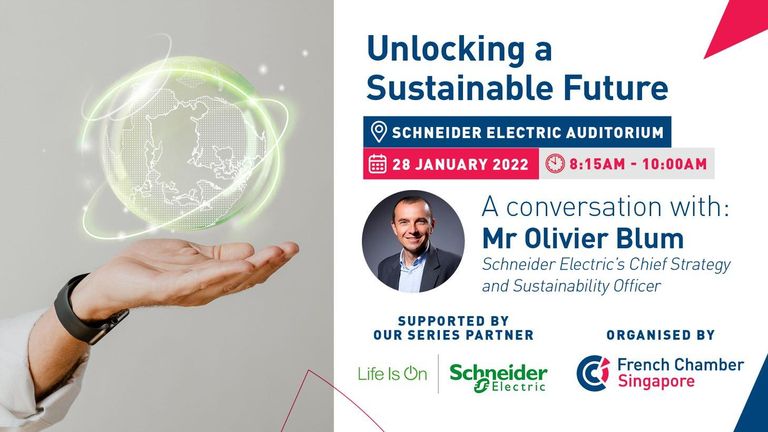 Join us for a closed door discussion with Mr. Olivier Blum, Group Chief Strategy & Sustainability Officer at Schneider Electric on championing sustainability journey and how to cope with the uncertainties of tomorrow's new world.
This interactive dialogue will be moderated by Mrs. Nadege Claudel, Head of Sustainability | APAC at CHANEL.
Programme:
From 8:00 am : Welcoming attendees.
8.30 am : Introduction by Mrs Nadege Claudel moderator of the dialogue.
8.40- 9.00 am : Opening Remarks by Mr Olivier Blum.
9.00- 9:40 am : Fireside chat between Mr Olivier Blum and Mrs Nadege Claudel.
9:40-10:00 am : A Q/A session with questions from the Audience.
About the speaker:
Olivier Blum- Group Chief Strategy & Sustainability Officer
As Group Chief Strategy & Sustainability Officer at Schneider Electric, Olivier leads the development of Corporate Strategy, Mergers & Acquisitions, Sustainability and Quality.
Olivier has been a member of the Executive Committee since 2014 and prior to his current position, Olivier led Schneider's People Strategy as Chief Human Resources Officer between 2014 and 2020.
Olivier began his career at Schneider Electric in 1993 in his home country of France. He has been living and working in Asia for the last two decades, where he has held leadership positions as the Regional Head of Strategy for China and the Regional Managing Director for India, before taking on the global role of Executive Vice President for the Home & Distribution Division based in Hong Kong.
Olivier has been a Non-Executive Director on both AVEVA Group PLC (as Remuneration Committee member) and Delta Dore Boards since 2020.
In 2019, Olivier received France's Chief Human Resources Officer of the Year Award from Cadremploi, Morgan Phillips Hudson, Le Figaro Décideurs and Fyte, in recognition of how he transformed Schneider's leadership and culture at a global scale.
Olivier graduated from Grenoble Business School (GEM), France.
Our Moderator :
Mrs Nadege Claudel - Head of Sustainability, APAC at CHANEL
Terms & Conditions
This event is open to members.
Full payment is required upon registration.
Should you need to cancel, please do so no later than two working days before the date of the event.
No shows will not be refunded.
Please note that photographs and videos may be taken during the event for news and publicity purposes.
Safe management measures
This event is subject to a cap of 50 persons.
Safe distancing measures will be adhered to throughout the event.
No food or drink will be served.