Join us to know more about cryptocurrencies, exploring regulation, technology, and the future of finance.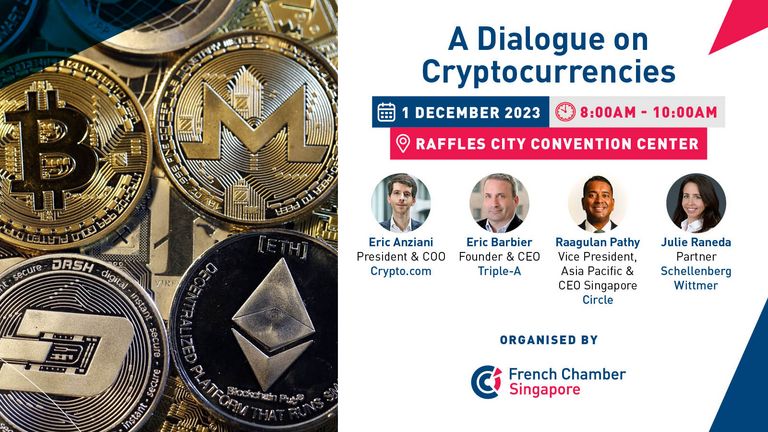 Join us for an insightful dialogue featuring prominent figures in the world of cryptocurrency and fintech: Eric Anziani, President & COO at Crypto.com, Eric Barbier, Founder & CEO of Triple-A, and Raagulan Ratnasabapathy , VP, Asia Pacific & CEO Singapore at Circle. This panel discussion, will be moderated by Julie Raneda, Partner at Schellenberg Wittmer, who will delve into crucial topics which shapes the crypto landscape.
The conversation will cover cryptocurrency regulations shedding light on the latest updates, as well as delve into the underlying technology. It will also explore the increasing interest from merchants and the various risks and challenges associated with the crypto sphere.
This event presents a remarkable opportunity to not only listen to but also engage with titans of the crypto and fintech industry.
Agenda:
8AM - 8.30AM : Breakfast networking
8.30AM - 9.30AM: Panel discussion:
How big is the crypto market today really?
What is the future of Crypto? What is crypto's purpose today? Why do we need it?
Where are the regulators? What are the regulations to come?
9.30AM- 10.00AM : Q&A and interaction with the audience
Terms & Conditions
Open to non-members.
Seats are limited.
Fees are non-refundable.
Please note that photographs and videos may be taken during the event for news and publicity purposes.