Join us for a webinar talk to discuss the importance of implementing long-term sustainable and self-sufficient food supply in Singapore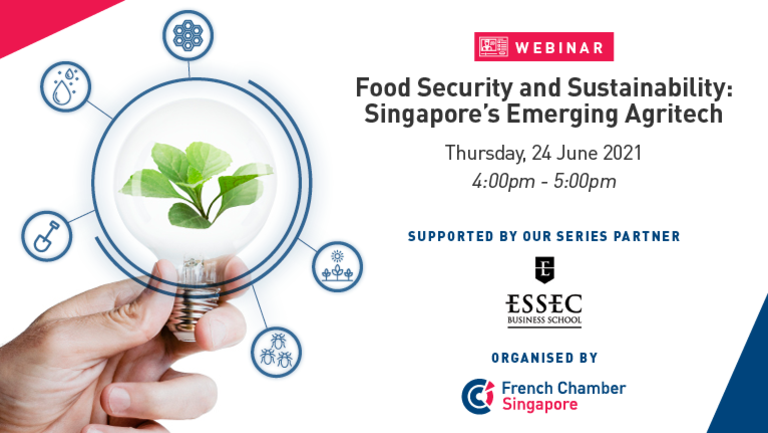 Covid-19 has magnified Singapore's constant, impending vulnerability of its food security and lack of self-sufficiency in its food supply.
As part of the Singapore Food Agency's (SFA) strategy of "three food baskets" — diversifying food sources, growing locally and growing overseas, the city-state is also on the path towards becoming Asia's urban agri-food tech hub, and is driving intensive research and development (R&D) into AgriTech and high-productivity innovation.
A significant feature of this overall strategy includes attracting best-in-class global companies, as well as nurturing promising homegrown firms into local champions and helping them to expand overseas.
But is food security enough without also considering sustainability issues for the long-term?
In this fourth instalment of the ESSEC-FCCS Leadership series,Prof. Cedomir Nestorovic, Geopolitics Professor, ESSEC Business School and Academic Director of the ESSEC & Mannheim EMBA Asia-Pacific, hosts a panel of industry players, to explore Singapore's Food Security & Sustainability landscape; environmental & food safety challenges and policy ideas to ensure food security in this ever-evolving, ever-disrupted world.
Terms & Conditions
Full payment is required upon registration
Once paid, registration fees are non-refundable