Join us for a panel discussion around Transfer of Research and Innovation with CNRS, SGInnovate, A*Star, Naval Group and Thales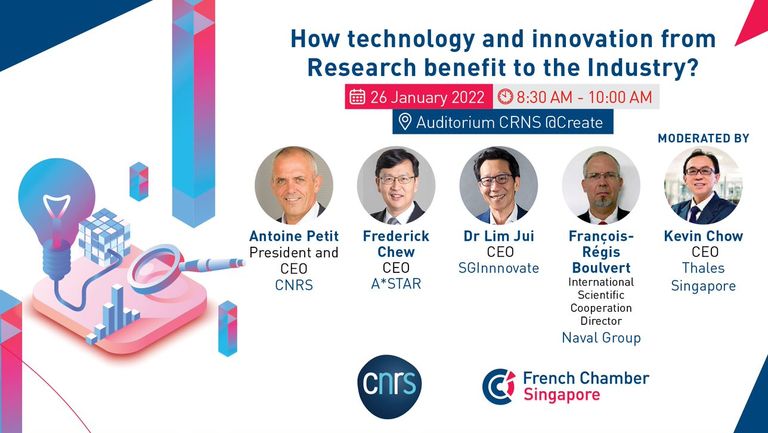 Join us for a panel discussion around the transfer of Research and Innovation to industries.
Prof. Antoine Petit, Chairman and CEO of the CNRS France, the French National Centre for Scientific Research will be in Singapore for the official Launch of the Descartes programme https://www.cnrsatcreate.cnrs.fr/descartes/ .
During his official visit, the French Chamber of Commerce in Singapore (FCCS) together with the CNRS and CNRS@CREATE will organise a conference to discuss R&D, Innovation and technology transfer.
On that occasion, join us for a fruitful dialogue with Prof. Antoine Petit, Chairman & CEO of the CNRS France, Mr Frederick Chew, CEO of A*STAR and Dr Lim Jui, CEO of SGInnovate, to hear how Technology and Research agencies drive mission-oriented research and transfer research and innovation to private companies and industries.
Mr François-Régis Boulvert, International Scientific Cooperation Director of Naval Group , will also illustrate the interest of joint research and international cooperation carried out between CNRS and Naval Group.
The panel discussion will be moderated by Kevin Chow, CEO THALES Singapore.
Programme :
8.00-8.30: Welcome – Registration
8.30-9.00:

Presentation of the CNRS and its activities,
Introduction of A*Star,
Introduction of SGInnovate

9.00-10.00: Round table discussion between the CNRS, A*STAR, SGInnovate with the testimonial of industrial partner Naval Group
Q/A session with the audience
10.00: Closing remarks
Terms & Conditions
Full payment is required upon registration.
Should you need to cancel, please do so no later than 3 working days before the date of the event.
No shows will not be refunded.
Limited seats available - The event is fully booked for onsite registration and is open for online registration only
Safe distancing measures will be adhered to throughout the event.
Please note that photographs and videos may be taken during the event for news and publicity purposes.
For any question, please contact Aurelie Martin : amartin(@)fccsingapore.com