Introduce your child to financial independence!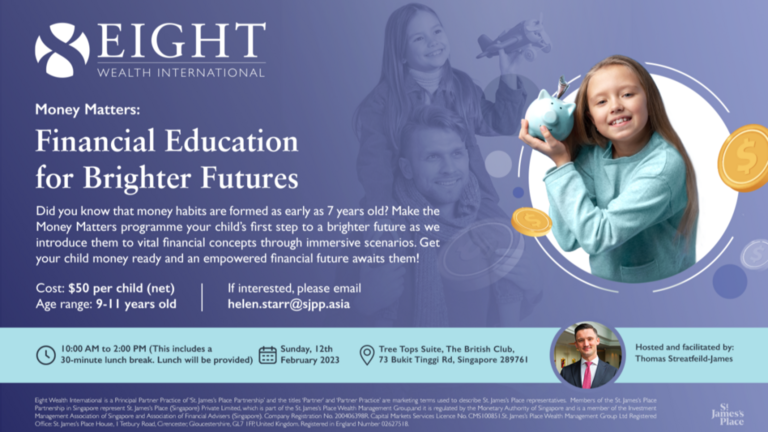 Financial habits can be formed as early as 7 years of age, therefore establishing healthy money habits as early as possible can help lay the foundation for a lifetime of smart financial decisions.
The program on the 12th February is aimed at 9 – 11 year olds and designed to introduce them to important financial concepts through immersive scenarios.
The children will be provided with the tools not only to understand how finances work, but to also make smart and sound decisions when it comes to dealing with them in the future.
During the programme, children will gain an understanding of:
Importance of Earning and Saving Money
Interest and Compound Interest
Managing Loans
Financial Risk and Reward
The children will keep their own balance sheet and attempt to end the game with the greatest final balance through participating in the activities.
Leading the programme is Associate Partner at Eight Wealth International, Thomas Streatfeild-James. Tom relocated to Singapore in 2022 from Shanghai and prides himself on taking clients on healthy financial journeys. A true advocate of seizing opportunities and sharing knowledge, Thomas provides a high standard of expert advice to his clients and schools with financial education sessions.
If interested, please email Helen STARR