Practical, financial and legal point of view on Mergers & Acquisitions for the year ahead.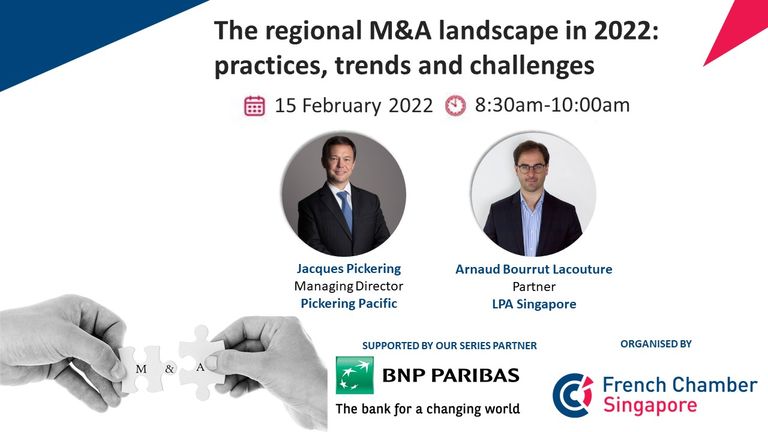 The mergers and acquisitions market in Asia Pacific was impacted by the pandemic earlier than in other parts of the world but held up more robustly. In 2021, the market has even broken records. As more and more organisations turn to M&A as a vehicle for transformation, it is essential to understand the deal environment and what we will be watching closely in 2022.
Jacques Pickering, from Pickering Pacific, a corporate finance advisory firm, together with Arnaud Bourrut Lacouture, from LPA SINGAPORE, a boutique law firm, member of LPA-CGR international network, will be discussing how the M&A landscape might look like for the next few months and beyond from the practical, financial, and legal points of view.
From the forces and overriding new trends shaping the transactional landscape to the impacts of new laws and hybrid processes, join this discussion to get insights from our experts on how they conduct the deals and address the evolving pandemic-related issues that impact transactions and agreements.
Terms & Conditions
Full payment is required upon registration.
Limited on-site seats available as safe distancing measures will be adhered to throughout the event. On-site event with limited places is: FULL.
Webinar: A Zoom link will be sent 1 day prior to the event
Please note that photographs and videos may be taken during the event for news and publicity purposes.