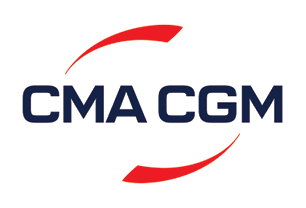 Activity
Founded in Marseille, France in 1978 by the late Jacques Saadé, the CMA CGM Group is a leading worldwide shipping group. Now headed by Rodolphe Saadé, the CMA CGM Group is present in more than 160 countries through its network of over 755 agencies, with more than 30,000 employees worldwide.

With a young and diversified fleet of 509 vessels, the CMA CGM Group serves over 420 of the world's 521 commercial ports. Through more than 200 shipping lines, the company operates on every one of the world's seas. CMA CGM Group owns a portfolio of brands and subsidiaries that complement one another and offers strong regional expertise.


About APL
Part of the CMA CGM Group, APL is one of the world's leading ocean carriers, providing container shipping and terminal services, as well as intermodal operations supported by leading-edge IT and ecommerce. APL facilitates transcontinental cargo shipping across Asia, North and South America, Europe, the Middle East, the Indian subcontinent and Oceania through more than 120 weekly services calling ports in over 70 countries worldwide.

Supported by some 5,000 employees worldwide, APL is an award-winning carrier. Some of its noteworthy awards include 'Containership Operator of the Year' of Lloyd's List Asia Pacific Awards 2018, 'Containership Operator of the Year' of Lloyd's List Global Awards 2017 and 'Best Shipping Line in the Trans-pacific' of 2018 Asia Freight, Logistics and Supply Chain Awards.
9 North Buona Vista Drive #13-01 (CC) / #14-01 (APL)The Metropolis (Tower 1) SINGAPORE 138588