Companies news
Bureau Veritas, Vinssen and NTU Singapore to develop hydrogen fuelled vessels venturing into the future of Energy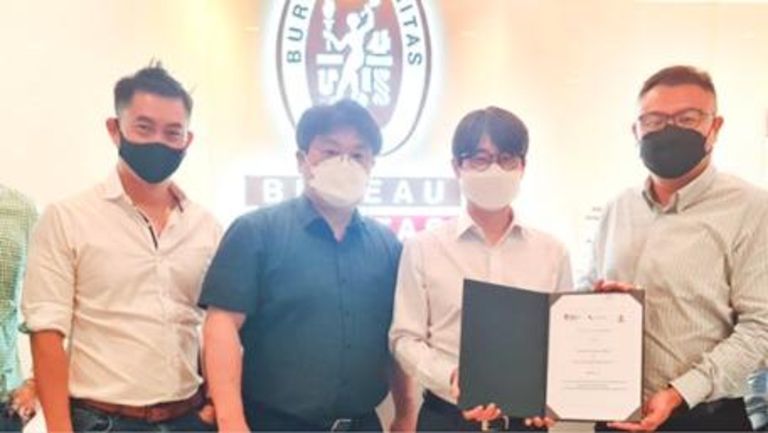 Singapore, on 27 Apr 2022, Bureau Veritas (BV), Vinssen Co. Ltd (Vinssen) and the EcoLabs Centre of Innovation for Energy (EcoLabs) at the Nanyang Technological University, Singapore (NTU Singapore) have signed a Memorandum of Understanding (MoU) with plans to demonstrate commercialisation of eco-friendly marine propulsion system technology and products in Singapore and Korea.

Under the agreement, BV, Vinssen and EcoLabs, which is based in the university's Energy Research Institute @ NTU (ERI@N), will be working together to develop a pilot project in Singapore demonstrating hydrogen-based power generation by discovering in-depth knowledge about hydrogen to be used as an eco-friendly marine fuel by integrating hydrogen fuel cell systems on harbour crafts.
Bureau Veritas is glad to have the industrial expert, Vinssen and a world-renowned university NTU Singapore working together hand in hand to come up with solutions for the changing industry needs. With strong industrial collaboration, BV shall continue to provide turn-key services for marine environment protection and innovation towards sustainable maritime.
DAVID BARROW, Vice-President Bureau Veritas South Asia Zone, Marine & Offshore
BV's new Centre of Excellence - innovation, and Centre for Alternative and Renewable Energy (iCARE), will be leading the initiative and looking forward to working with Vinssen and NTU's EcoLabs to produce commercially feasible studies that could empower organisations to take up sustainable growth and work towards a greener future together.

Mr Koh Shu Yong, Director of iCARE said: "iCARE is proud to be a part of the project that can contribute back to the maritime industry. Having a strong industry collaboration to co-create solutions for sustainability and forging ahead on at our best pursuing innovation in policy and technology for decarbonisation".

Vinssen is a pioneering enterprise of environmentally friendly marine mobilities. To reduce greenhouse emissions, Vinssen continue to steadily invest on research and strategies to develop a sustainable propulsion system to reduce greenhouse emissions with primary focus in applying the hydrogen fuel cell system and electric vehicle battery (EVB) technology to ship building and marine industry.

Mr Chil-han Lee, CEO of Vinssen said: "Vinssen is actively developing propulsion and control systems for alternative marine fuels including Hydrogenia, Korea's first commercial hydrogen electric boat. We take pride in our efforts to create environmentally friendly products that will have a positive impact on our customers while also reducing pollution on our planet. With collaboration with NTU and BV iCARE, we hope to extend our product portfolio to Singapore and beyond."

EcoLabs Centre of Innovation for Energy is accelerating deep-tech energy innovation capabilities in Singapore to support the nation's future energy transition in collaborating with diverse corporate and venture capital partners to provide unique innovation programmes for the deep tech start-ups to translate their ideas and de-risk their innovation efforts towards commercialization.

Mr Mahesh Kumar, Programme Director at the EcoLabs Centre of Innovation (COI) for Energy, said, "Hydrogen is a key element in decarbonised economy. This partnership is expected to benefit local ecosystem here while facilitating energy transition and associated infrastructure developments for decarbonization. We are pleased to support the development of the project through our extensive network of global partners, including corporate partners, government agencies, investors, research institutions and other successful startups."

Following the agreement, the parties will be moving on to make detailed discussions on the project.