Companies news
Milesight and UnaBiz Announce Partnership to Accelerate Sustainable Transformation Towards Greener Buildings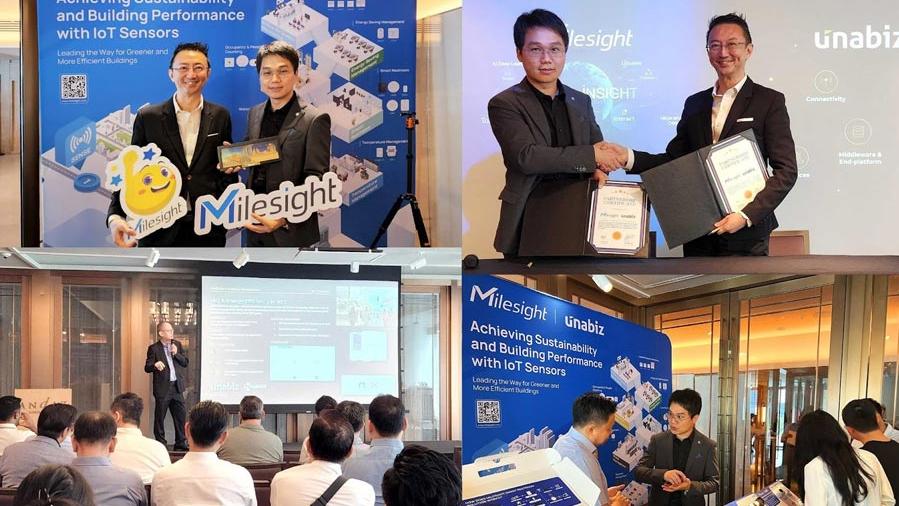 03 Nov 2023, SINGAPORE – Milesight, a renowned leader in smart building solutions, and UnaBiz, Massive IoT service provider and integrator, have joined forces in an exciting partnership to accelerate sustainable transformation towards greener and more energy-efficient buildings.
By combining Milesight's extensive range of best-in-class LoRaWAN® devices with UnaBiz's comprehensive IoT integration know-how, the partnership aims to deliver a wide range of Sigfox 0G and LoRaWAN® solutions that can be easily retrofitted into brownfield buildings to transform them into a data-driven and energy-efficient facilities without an overhaul of Building Management Systems (BMS) for building owners and managers.
These proven solutions enable building owners to seamlessly monitor and control the BMS, including indoor air quality, HVAC, occupancy, and more, prioritising both environmental stewardship and occupant comfort.
"Milesight is pleased to partner UnaBiz, a strong player in the Facilities Management vertical and we are excited to harness the collective power of our capabilities to make buildings smarter, more sustainable, and responsive to the needs of the people within them," commented Mr Leon Jiang, Vice President of Milesight IoT.
Both Milesight and UnaBiz are commited to fostering partnerships that drive innovation and shape the future of the IoT industry. This collaboration serves as a testament to their shared vision and determination to create a sustainable and connected world.
"This partnership brings two IoT global leaders together, and it furthers help us to drive and deliver a sustainable development and impact in smart buildings," says Mr Jonathan Tan, Managing Director of UnaBiz. "By bringing together Milesight's deep hardware expertise and UnaBiz's expertise in IoT services in project design, deployment, and extensive market reach, we are able to enhance our offering to deliver the best fit-for-purpose IoT solutions for our clients", he adds.
Through this strategic collaboration, Milesight and UnaBiz are primed to reshape the future of smart buildings, leveraging state-of-the-art IoT technologies empowered by Sigfox 0G and LoRaWAN® to drive sustainability, reduce energy consumption, and enhance operational efficiency.
UnaBiz was accredited by the Infocomm Media Development Authority of Singapore (IMDA) in 2021 affirming its position as one of the digital champions to contribute to Singapore's Digital Economy vision. The scale up has deployed Smart Facility Management solutions across a hybrid of low-power wide-area (LPWA) technologies such as Sigfox 0G, LTE-M, NB-IoT and LoRaWAN® in over 100 sites in Singapore.
SOURCE: UNABIZ