Event report
Past Event | Breakfast talk : Doing Business in Indonesia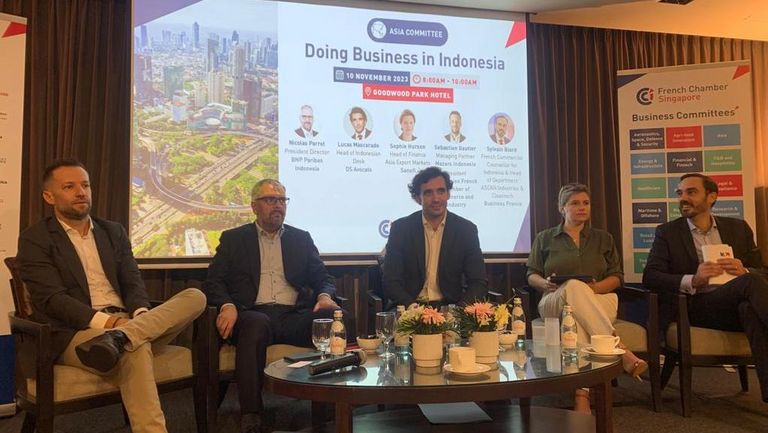 Thank you to our esteemed speakers Nicolas Parrot (BNP Paribas Indonesia), Lucas Mascarade (DS Avocats), Sophie Hurson (Sanofi), Sylvain Biard (Business France), Sebastien Gautier (Managing Partner at Mazars Indonesia and President of the Indonesian French Chamber of Commerce and Industry) for animating this edition of our Breakfast Talk on Doing Business in Indonesia.
This session discussed the economic landscape of Indonesia, its opportunities and challenges and the legal requirements to set-up a business in the country.
Here are the key takeaways from the discussion:
Indonesia's Competitiveness and Attractiveness :

Perception of Indonesia's competitiveness is crucial for potential investors
Regulatory reforms, cutting red tape, and proposing incentives have been part of efforts to attract foreign investment.

Key Sectors in Indonesia:

Indonesia is focusing on key sectors like EV, digital/tech, and renewable energy.
Energy transition and net-zero commitments present opportunities for investors.
The integrated EV industry, especially in nickel, is a target, and investor appetite is a consideration.
The tech sector, driven by factors like e-commerce and financial services, is attractive for foreign investors.
The digital industry is transforming Indonesia's business landscape, offering various investment opportunities.

Success Factors and Challenges in Indonesia

Critical success factors include choosing the right local partner.
Legal system maturity, and corruption issues

Managing Business in Indonesia

Human resources, labor law, local content policies, the halal certification law, and access to financing.

Future of Indonesia

The move of the capital city to Borneo Island
The upcoming 2024 presidential elections and their potential impact on the business environment.
Indonesia's ambitious economic goals for 2045 and the challenges ahead for the country.
For more information on the Breakfast Talks, please contact Lydia Fulton, lfulton(@)fccsingapore.com
Access the speakers' presentation (Members only)