Join us for this insightful talk about Clientele Evolution and Perspectives in the Retail Industry (Onsite is fully booked )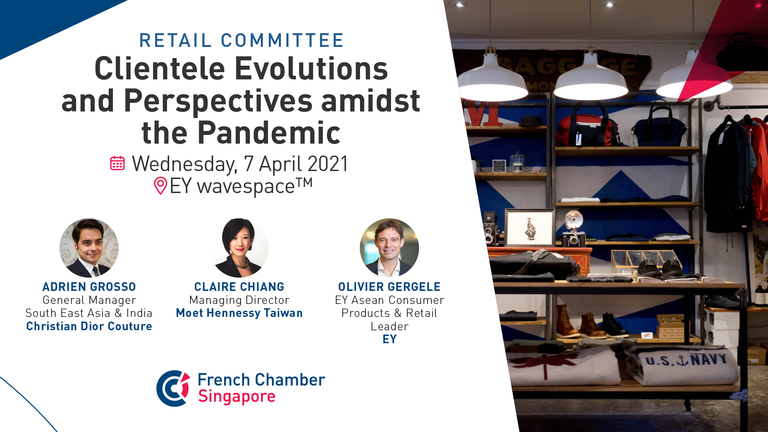 This discussion offers the opportunity to get insights about the clientele evolution and its perspectives. After approximatively a year of border closures, learn about the main clientele evolutions (consumer purchases, consumer behaviors, evolution of centers of interests) in Retail on both Online an Offline channels ?
Find out more about:
Understanding the main retail's shifting landscape
The geographic demand and impacts
The "new markets": the captive demography, local market strategy
The customer personalization
The dialogue will be moderated by Marie Baland, Head of Marketing & Client Experience Fragrance & Beauty - Travel Retail, Asia Pacific, Chanel.
Programme:
5 pm : Opening remarks by Marie Baland
5.05 pm : Insights and trends by Olivier Gergele, EY
5.15-5.45 pm : Insights and best practice sharing between Andrien Grosso, Claire Chiang and Olivier Gergele, moderated by Marie Baland
15 min :Q/A session from the audience
Terms & Conditions
Full payment is required upon registration.
Once paid, registration fees are non-refundable.
No shows will not be refunded.
Please note that photographs and videos may be taken during the event for news and publicity purposes.
For more information, please contact Coralie Vincens : cvincens@fccsingapore.com.