Join us for this online session on (Re)thinking innovation with a responsible behavior toward sustainability.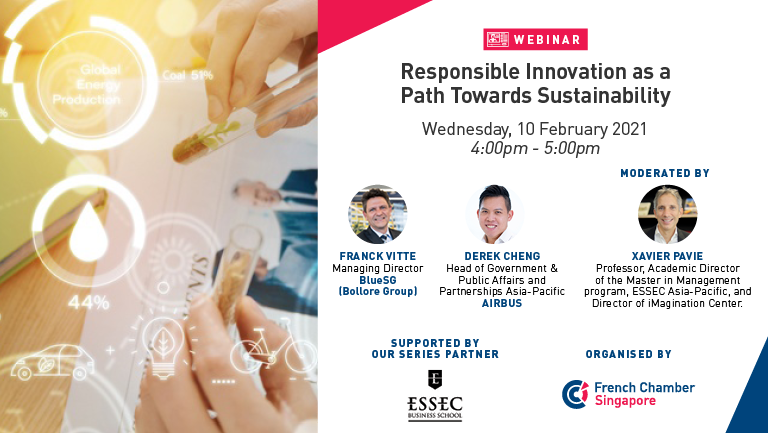 When the limits on human progress are ever-decreasing, and the consequences of human actions have never been so critical to predict and manage, the responsible nature of innovations has acquired whole new importance.
Firms now need to find the appropriate balance between achieving positive growth and performance while integrating the concept of responsible innovation at the very core of innovation strategies and processes.
On this third installment of the ESSEC-FCCS Leadership series, Prof. Xavier Pavie will moderate a panel discussion on Responsible Innovation as a path towards sustainability.
The discussion will explore:
- The process for implementing a responsible innovation in an organization while improving performance and sustainability.
- How to innovate sustainably and the need to re-evaluate the supply chain ecosystem to address the environmental impact of disruptive innovations.
- The need to consider the impact on humanity and societies. As technology progresses, we have become acquainted with topics like genetic modification and cloning.
Terms & Conditions
Full payment is required upon registration.
Once paid, registration fees are non-refundable.
No shows will not be refunded.
You will receive by email the link to connect to the webinar one day prior to the event by clicking on your personal link.