Cleantech Solar completes four solar rooftop projects for Cargill Thailand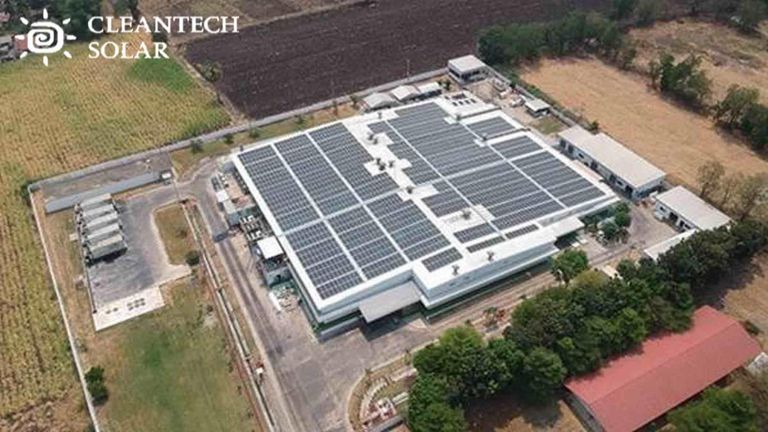 Four operating sites are expected to generate over 3,000 MWh of clean electricity in a year; equivalent to reducing 1,750 tonnes of CO2
Cleantech Solar has announced the completion of four rooftop solar PV systems at Cargill sites across Thailand under long-term agreements where Cleantech Solar has funded, built, and will operate and maintain the systems. The solar power plants have a combined generating capacity of 2.4 MW and are located in different locations in Lopburi, Korat and Phetchaburi.
The four operating sites are expected to generate over 3,000 MWh of clean electricity in a year which is equivalent to reducing 1,750 tonnes of CO2, representing perceptible efforts by Cargill to cut down greenhouse gas emissions from its operations globally.
Southeast Asia's growth in electricity demand has been one of the fastest in the world and there is substantial potential for the adoption of renewable energy in the region. To meet the rising electricity demand with affordable, reliable and sustainable sources, Thailand has set a target to increase the use of renewables to 30% of the country's overall energy consumption by 2036. The new sites will add on to Cleantech Solar's portfolio of operating solar power plants in Thailand, which have since generated over 35 GWh of clean electricity, enough to power 17,500 Thai households per year.
Cargill's move to adopt solar in Thailand is in line with its science-based global commitment to reduce Scope 1 and 2 greenhouse emissions by 10% by 2025, measured against a 2017 baseline.
Watcharapon Prasopkiatpoka, Cargill's Country Representative for Thailand, said:
"Cargill supports global actions to mitigate climate change by constantly pursuing emission-reducing technologies to minimize carbon footprint. Cleantech Solar has proven its capabilities in its field to power its customer's operations with full turnkey renewable and reliable solar solutions. We are pleased with the project's success and its contributions to Cargill's global sustainability targets."
"On top of the benefits these operating solar power plants provide to Cargill's operations and the environment, they will also provide economic benefits in the form of cheaper-than-grid electricity. Cleantech Solar is pleased to be supporting Cargill's commitment as its trusted partner to help the company build a stronger, sustainable future for food and agriculture," said Raju Shukla, Cleantech Solar Founder and Executive Chairman.
About Cleantech Solar (www.cleantechsolar.com)
Cleantech Solar is a pan-Asia supplier of renewable energy to corporates, combining the capabilities of a regional player with responsiveness and agility.
Headquartered in Singapore, Cleantech Solar has been selected for numerous solar power plants across India and Southeast Asia, covering over 500 MW across the various stages of operations, construction and development. This includes installations and projects in India, Cambodia, Indonesia, Malaysia, Thailand, Vietnam and Singapore.
The company helps corporations to meet their sustainability goals, offering them a unique combination of:
Shared values ensuring long-term partnership
Leading technical expertise with a strong focus on delivering safe and high-quality projects
Experienced local teams in all markets to ensure compliance and smooth execution
State of the art control room delivering optimized performance in real time
About Cargill (www.cargill.com)
Cargill's 155,000 employees across 70 countries work relentlessly to achieve our purpose of nourishing the world in a safe, responsible and sustainable way. Every day, we connect farmers with markets, customers with ingredients, and people and animals with the food they need to thrive. We combine 155 years of experience with new technologies and insights to serve as a trusted partner for food, agriculture, financial and industrial customers in more than 125 countries. Side-by-side, we are building a stronger, sustainable future for agriculture.
Weblink: https://cleantechsolar.com/cargill-pv-project-with-cleantech-solar-thailand