Event report
Meet The CEO #23 - STMICROELECTRONICS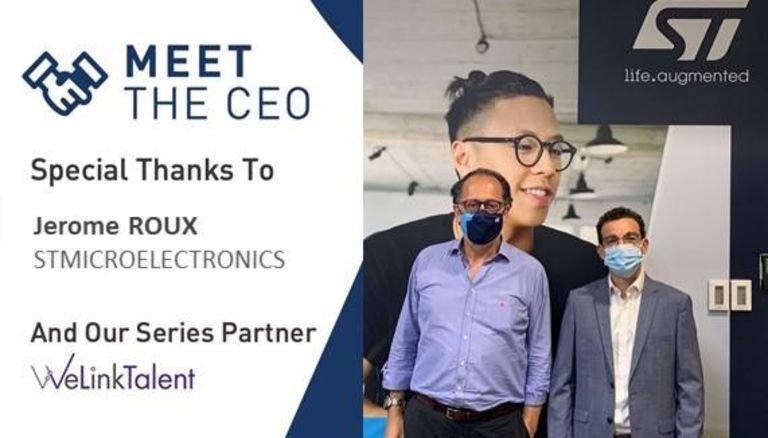 The French Chamber of Commerce organised the 23rd edition of MEET THE CEO on Mar 26 2021 with Jerome Roux, Executive Vice President, Head of Sales & Marketing, Asia Pacific Region at STMICROELECTRONICS.
Thank you Jerome for selecting these start-ups, entrepreneurs and SMEs and giving them the opportunity to meet with you and introduce their business:
Fayrouz YATAGHANE, REALME COMS
Constance LAPARRA, AME ASIA
Jeanne MOUTERDE, IELO DESIGN
Mike MEDIOUNI, TICTEK
Guillaume SIMENEL, SIGFOX
Germain CHAPART, TEAMWORK
A warm thank you to all! With special thanks as well to our Series Partner, WeLinkTalent | Recruitment Innovation, sponsor of one of our dedicated French Chamber of Commerce in Singapore's Startups and Entrepreneurs programmes to encourage innovation and cultivate entrepreneurial spirit within the business community.
***
Meet The CEO is a monthly initiative of the French Chamber in Singapore that provides opportunities for start-ups and SMEs to connect with a CEO of a large company. Find out more here about our Startup and Entrepreneurs Program, please email Amelie Poumaer or visit https://bit.ly/3HjbKaK