Event report
The Sustainability Challenges in the Maritime Industry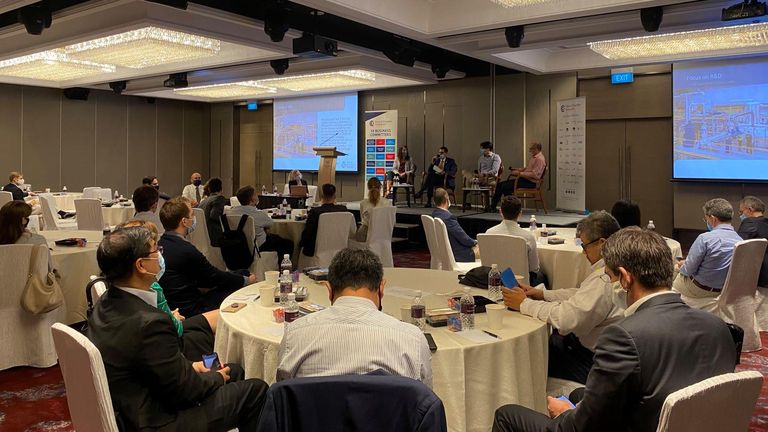 Digitalization, environmental regulations, and managing costs are some of the key sustainability challenges the Maritime Industry will have to come across in the next 5-10 years. The maritime sector has already implemented significant measures towards more sustainability with the adoption of green energy and technologies to enhance operational efficiencies.
The Singapore Maritime R&D Roadmap 2030 will serve as a key implementation strategy for Maritime Singapore's transformation through research and innovation with 5 strategic research areas :
1. Efficient and Intelligent World Class Next Generation Port
2. Strategic Sea Space and Maritime Traffic Management
3. Smart Fleet Operations and Autonomous Vessels
4. Effective Maritime Safety and Security
5. Sustainable Maritime Environment and Energy
During this talk, key experts from the industry addressed some of the key sustainability challenges for the maritime sector and demonstrated how innovative players are overcoming these constraints in these topic discussions: What are the solutions for a Sustainable Maritime Environment and Energy, Maritime Industry Decarbonization Roadmap : Energy options for today and tomorrow and What solutions should be adopted to improve ship efficiency and to be more sustainable.
Thank you to our speakers Jerome Leprince-Ringuet, Vice-President Marine Fuels at Total, Alexandre WATTINNE, Managing Director of CMA CGM International Shipping Company (CCISC), Stephane Maillard, General Manager of Gaztransport & Technigaz subsidiary, Rajiv Sarin, Vice President, Marine- SEA - ALFA LAVAL, Julien Boulland, Gas specialist at Bureau Veritas Marine & Offshore, Jerome Floury, Global Service Line Leader - SMART Assets & Digital Solutions at BV Solutions M&O and Helene Sironneau, Senior Associate at Wikborg Rein, as well as to CMA CGM, our Maritime and Offshore Committee sponsor.