Companies news
New Caledonia: the new 'French' destination for Singaporeans!
On the 1st of July, the New Caledonian airline, Aircalin, launched a new service with two direct flights per week between Singapore and New Caledonia. This is a fantastic opportunity for travellers from Southeast Asia to escape the crowds and pollution in their big cities and discover a new, unique and varied destination – both Oceanian and French – hidden in the heart of the South Pacific.
For Mr. Mickael Forrest, President of New Caledonia Tourism and member of the government responsible for international tourism promotion: 'This new airline route is a win-win for both Singapore and New Caledonia. It opens our exceptional destination – which has escaped mass tourism – to Singaporeans who will be able to discover our amazing natural and cultural diversity. It is with great delight that Caledonians, always keen to share their paradise and authentic traditions, welcome this promising new market after a difficult two years due to the global COVID crisis. New Caledonia Tourism will invest in promotion to Singaporeans over the coming months with advertising on their streets, on social networks, in the media, and will establish partnerships with local travel agencies to develop future business.'
10 REASONS WHY NEW CALEDONIA IS THE PLACE TO BE
1. It's now easy to get here!
New Caledonia is finally reopening to the world after the pandemic. From now on, travellers only need to provide proof of full vaccination against COVID-19 upon boarding and be tested 2 days after arrival. Luckily, Singapore passport holders don't need to get a short-stay visa and there is a new direct flight from Singapore. Let's go!
2. For a truly exclusive experience
Dreaming of an original and unspoilt destination which has escaped mass tourism? You'll love New Caledonia! With just 130,000 tourists every year before the crisis and only 14 residents per Km2, the destination is one of the rare places on earth where you can still enjoy sumptuous untouched landscapes without being jostled by other tourists.
3. Several trips in one
New Caledonia is an archipelago abound with contrasts, giving a multitude of atmospheres and experiences from region to region: the modern & coastal city of Noumea, paradise Islands with turquoise lagoons, the great golden plains of the West Coast with its own local cowboys, the lush green East Coast where traditional Kanak tribes live at the foot of waterfalls, and finally the Great South with red deserts and prehistoric plant life!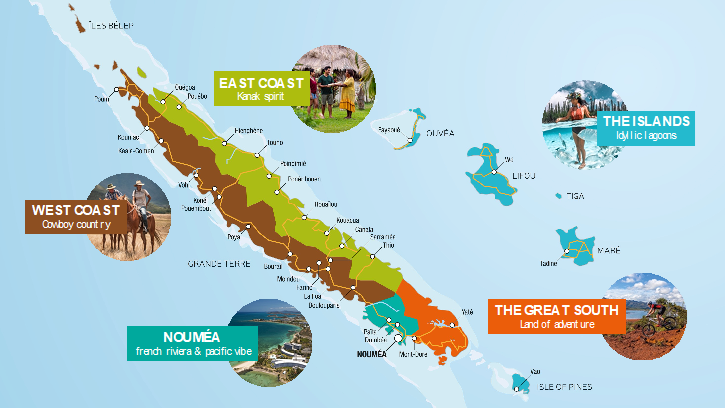 4. The perfect climate
The weather is almost never too hot or too cold in New Caledonia. With a very pleasant sub-tropcial climate, we have sunshine all year round. In the hot season, from November to March, temperatures range between 21 to 29 °C. In the cool season, from July to September, temperatures range from 17 to 24 °C.
5. Swim in the largest enclosed lagoon in the World
With 24,000 km2 of lagoons protected by a huge coral reef brimming with life and colours, scientists and bathers agree that the Caledonian reefs - registered on the UNESCO World Heritage list - are 'the most beautiful in the world'. You'll love sailing around the small islands and swimming with over 20,000 marine species including turtles, rays, fish and dugongs.
6. Explore a vast archipelago
The New Caledonia archipelago is a vast playground, and in fact, much bigger than you imagine. It's an absolute paradise for hikers and outdoor enthusiasts! The main mountainous island, the 'Grande Terre' is over 400km long. The road trip from north to south takes over five hours. Not to mention the other tropical islands – the Isle of Pines to the south and the four Loyalty Islands to the east – which are just a 30- to 40-minute flight away.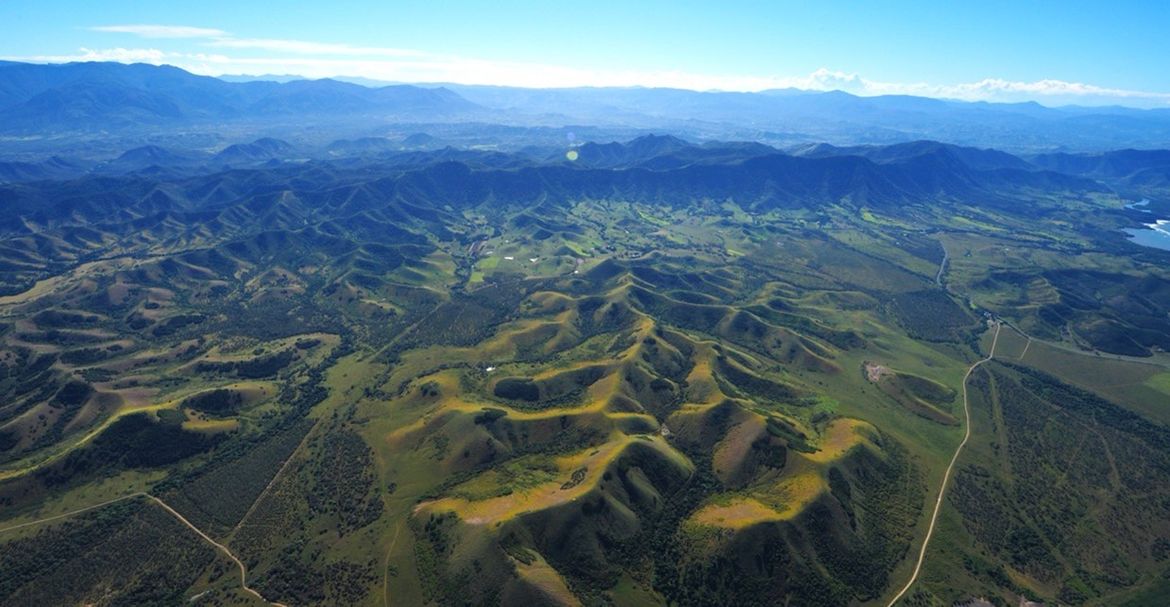 7. Amazing flora and fauna
Nature flourishes in New Caledonia! The archipelago is one of the main biodiversity hotspots on the planet. With unique fauna and flora, three quarters of its plants are endemic. This wonderful Garden of Eden has even seduced the luxury brand Chanel, which sources the essence of Caledonian sandalwood for its perfumes.
8. A sparkling cultural mix
The Kanaks, on the archipelago for over 3,000 years, have gradually been joined by Europeans, Asians and Polynesians. New Caledonia has a thriving colourful local culture. Discover traditions and flavours from around the world: sleep in a tribal cabin and taste local products, watch a typical rodeo and live like a local cowboy, or relish a delicious French meal then enjoy the sounds of the French Touch with the local night life.
9. A developed territory
New Caledonia is a French overseas territory recognised as a safe, well-developed tourist destination. Compared with many Pacific islands, New Caledonia enjoys a high standard of living and world-class infrastructure with hospitals, roads, 4G telephone coverage and decent wages. What's more, the currency is stable as it is indexed to the euro.
10. Spoilt for choice
New Caledonia caters to all tastes. There is a wide range of accommodation, from luxurious five-star hotels to traditional accommodation with the locals, or more original options in the great outdoors. As for activities, the archipelago is an immense playground that can be explored on foot, on horseback, in a kayak, aboard a ULM, in a golf buggy, kite surfing, sailing catamaran – the list goes on. Discover our 50 must-see experiences!