COVID-19 • Event report
WEBINAR: Adapting Your Business To COVID-19 (French Chamber of Commerce in Singapore)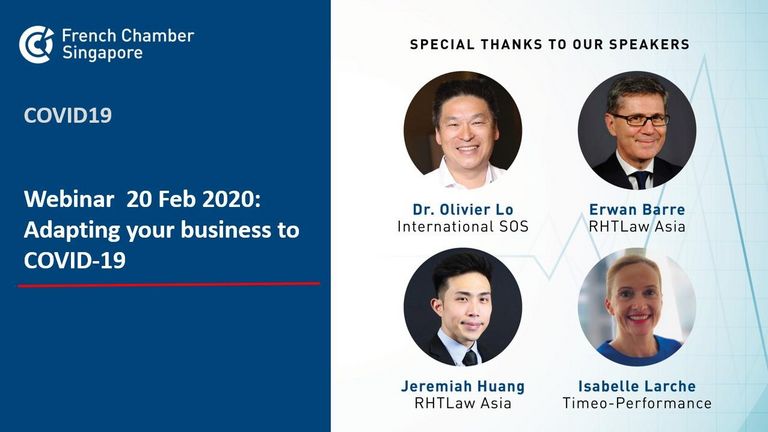 In view of the developing COVID19 (Coronavirus Disease 2019) situation, the French Chamber of Commerce in Singapore organized for its members an exceptional webinar on Thursday 20 Feb at 3pm, to provide more clarification on this subject.
Conducted by experts from different sectors, this webinar gathered more than 100 persons, followed by a Q&A session which gave information on:
Health / Medical
What is the current progression, propagation and dissemination of the disease?
What would be a health impacts, and possible timetable?
What are the preventive actions?
Legal
How to deal with COVID19's impact on business?
Is this a Force Majeure event?
What is allowed / mandatory to do?
Human resources
Do we have to implement remote-working?
Are there any recommendations in case of meetings planification (what to do? What to avoid?)
How to manage team togetherness in times of fear?
The 3 experts also touched on:
Any recommendations for a contingency plan?
How to deal with the interactions with HQ (in Europe or anywhere else). Any information or decision to communicate?
About the Speakers
Access the presentation (only for members)
If you are member, please login to access the presentation