Agritech & Design Prize EDB Singapore
About Singapore's agrifood ecosystem
Asia today makes up 40% of global crop land and is expected to be the most populous region by 2050. Urban areas are expected to take over 80% of agricultural land in Asia by 2030, and there is an emerging challenge to grow more with less in urban environments.
The Singapore Economic Development Board (EDB), the lead government agency in charge of industry development in Singapore, is working with its partners to bring Design and Science together to create an 18 hectare Agri-Food Innovation Park (AFIP) in Singapore.
The AFIP will be a reference site in Asia for high-tech farming operations for business model innovation, testing and iteration of technologies and development of production standards and best practices.
We are working with industry and academia in areas such as in diverse Agritech areas like insect farming, aquaculture, alternative proteins and indoor vertical farming.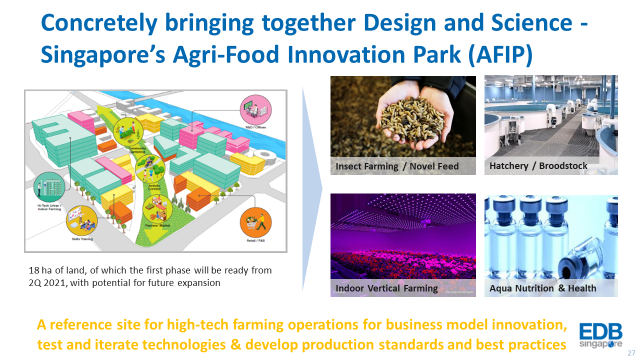 About the Prize
The Agritech & Design Prize is an initiative calling for innovative ideas and technology combining human-centric design and science to benefit agritech hubs in both Asia and Europe.
Companies' solutions should address at least one of the following challenge statements:
Sustainability
How might a AFIP comprising of integrated value streams across insect farms, indoor plant factory and indoor fish farm look like?
What energy efficiency, alternative energy, digital and other emerging technologies could bring to the AFIP?
Fostering multi-disciplinary collaboration across different players in the agrifood value chain
How can we design an innovation cluster that encourages high-tech farmers to collaborate with research institutes and other innovation stakeholders (startups, distributors, MNCs, consumers etc)
What is the role of Business, Government and Society?
How best can Singapore design our R&D programmes/funding to support AFIP?
Food security
How can agrifood space be used to stage for food security crisis while achieving commercial objectives?
4 pillars of food security - Local production, Food Waste, climate change resistance and nourishment. How can cities like Paris and Singapore meet these goals?
Educating producers & consumers
Design AFIP to educate consumers and customers on the quality of our urban farming produce & innovative agritech developed from France & Singapore
How can we raise awareness of nutritional benefits of 100% traceable produce?
How can AFIP leave visitors with a positive experience of urban agritech after visiting? Ideas to engage the next generation of "Urban Farmers"
Farming productivity
What specialty crops can be developed in an indoor farming environment to boost the profitability of the indoor farm?
What new business models could we consider for novel crops?
How can architects / designers/ process workflow add value to creating ideal workflow/systems to raise overall farming productivity.
Considerations to segregate the types of farms (warehouse, rooftop, greenhouse, plant factory)?
Prizes
Selected companies will be invited to participate in a pitch competition with potential investors, accelerators and customers in Paris in the first quarter of 2020 (date to be confirmed shortly).
The winning company will win a sponsored business trip (one return ticket (Paris-Singapore), 5 nights of accommodation, local programme) to Singapore to meet with potential investors, business and innovation partners.
Proposal requirements
Submitted applications should include a pdf proposal of maximum 5 pages and a preliminary pitch deck with a maximum of 10 slides.
The 5-page pdf and 10 slide deck should include the following:
A simple introduction of your company and the key members
Which problem statements you are working on
A simple introduction of the technology behind your solution
An explanation of your solution
A description of how your solution will be rolled out for execution
You do not need to use all 5 pages, but excess content will be disregarded. Annexes, diagrammes, charts, tables, trial results, etc can be submitted as further attachments.
Closing date for proposals - 15 Feb 2020, 2359 Central European Time
Submission
Indicate your interest in in the competition or finding out more about Singapore's agrifood ecosystem by filling up the below form.
Successful registrants will receive an email invitation from EDB and our partners to take part in the competition.
FAQ
1/ Who is eligible?
Companies do not have to be based in Singapore to take part but should have an intent to develop their solution in Singapore.
2/ How can I participate?
Companies' idea and technology should address at least one of the problem statements. Each company must submit their proposal before the closing date of the competition.
Finalists shall designate a representative to participate in the pitch competition in Paris in the first quarter of 2020 (date to be confirmed shortly). Otherwise, they will not be allowed to participate in the challenge.
3/ I have other questions, who may I contact?
Please fill in the above contact form with your questions.