This WEBINAR offers a unique opportunity for an up-close conversation with Dr. Lim Jui, CEO at SGInnovate.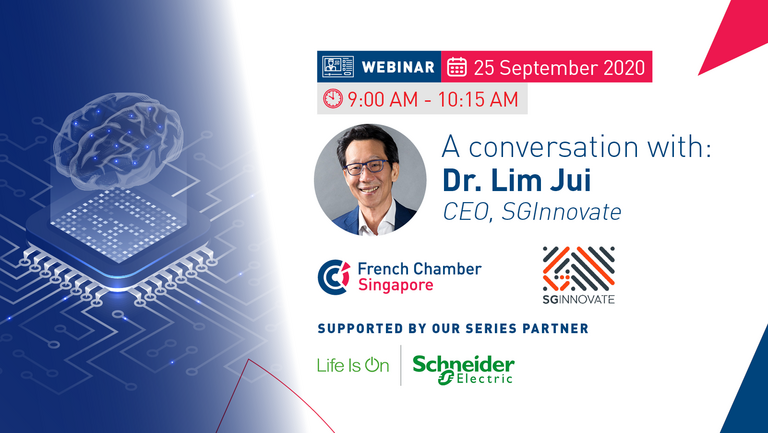 Dr. Lim Jui will share an overview of SGInnovate. SGInnovate builds and scales Deep Tech startups into high potential companies with global impact, as well as helps entrepreneurial scientists build Deep Tech startups. They believe that hard global problems can be solved using Deep Tech, and Singapore is uniquely positioned to realise Deep Tech innovations that can tackle these challenges.
SGInnovate's Deep Tech Nexus Strategy is focused on adding tangible value to the Deep Tech startup ecosystem in two key areas – development of Human Capital and deployment of Investment Capital. With the support of partners and co-investors, they back entrepreneurial scientists through equity-based investments, access to talent and business-building advice. SGInnovate's efforts are prioritised around emerging technologies such as Artificial Intelligence, Autonomous Tech, MedTech and Quantum Tech, which represent impactful and scalable answers to global challenges.
SGInnovate is a private-limited company wholly owned by the Singapore Government.
Dr. Lim Jui will also share the company's strategy on Innovation, Deep Tech research and post-covid built environment .
SG Innovate also looks forward to collaborating with members of the French Chamber across different business areas.
The dialogue will be moderated by Kevin Chow, CEO THALES Singapore and VP board member at the French Chamber of Commerce.
Programme:
Opening remarks by Kevin Chow as moderator of the conversation
Dr. Lim Jui Presentation on SGInnovate
Discussion and Questions moderated by Kevin Chow
A Q/A session with questions from the Audience
About the speaker:
As CEO of SGInnovate, Dr Lim Jui has overall leadership of the organisation that is committed to helping entrepreneurial scientists build and scale Deep Tech startups. At SGInnovate, Jui and his team work closely with a wide range of partners and co-investors to back this unique group of founders, who are looking to solve global challenges with their research-based solutions. This is done through equity-based investments, access to the Deep Tech ecosystem and talent network, as well as by providing business-building support.
While he trained in medicine, Jui had spent most of his professional life in the business of science and innovation. He was Director of Investments, Bio*One Capital; CEO of Merlin MD, a medical device company; Executive Director of the Medical Engineering Research and Commercialisation Initiative (MERCI) at the National University of Singapore (NUS); and Programme Director of the Singapore-Stanford Biodesign Programme (SSB), a joint venture between the Agency for Science, Technology and Research (A*STAR), the Singapore Economic Development Board (EDB) and Stanford University. Before joining SGInnovate, Jui was CEO of NTUitive, the innovation and enterprise company of the Nanyang Technological University (NTU).
He currently serves on the advisory boards of IPOS International, the business arm of the Intellectual Property Office of Singapore (IPOS), and several start-up companies. He was previously a board member of the Building and Construction Authority (BCA) in Singapore.
Jui received his Bachelor of Arts (BA, Biological Sciences and East Asian Studies) and Doctor of Medicine (MD) at Columbia University. He then obtained his Master of Medicine (Anaesthesiology and Surgical Intensive Care) from NUS. He remains a registered medical practitioner today.
A firm believer in National Service (NS), Jui served 22 years as an operationally ready national serviceman (NSMan). In his final appointment as an NSMan, he was the Commanding Officer of an infantry battalion in the Singapore Army. Outside of work, he enjoys spending time with his family and friends over food, drinks and music. He then burns it off by running, most frequently in the trails around MacRitchie Reservoir.
Terms & Conditions
Full payment is required upon registration.
The link to join the Webinar will be sent to you 1 day prior to the event.
Should you need to cancel after payment has been made, please do so no later than two working days before the date of the event for a refund.
No shows will not be refunded.