This WEBINAR offers a unique opportunity for an up-close conversation with Mr. Lee Chee Koon, Group CEO at CapitaLand.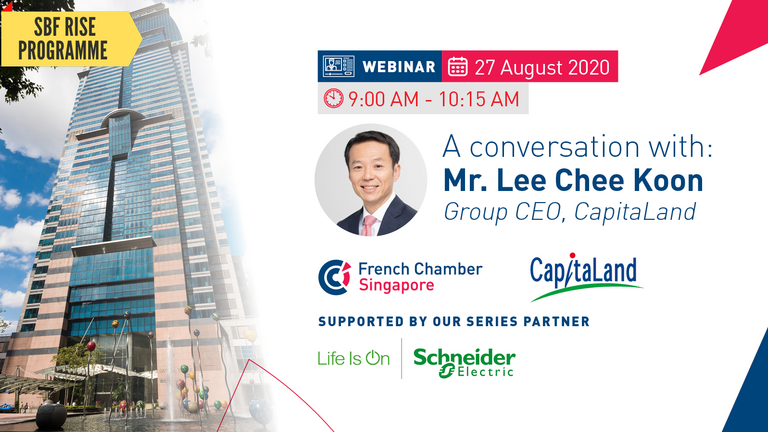 Mr. Lee Chee Koon will share an overview of CapitaLand. CapitaLand Limited (CapitaLand) is one of Asia's largest diversified real estate groups. Headquartered and listed in Singapore, it owns and manages a global portfolio worth about S$134.7 billion as at 30 June 2020. CapitaLand's portfolio spans across diversified real estate classes which includes commercial, retail; business park, industrial and logistics; integrated development, urban development; as well as lodging and residential. With a presence across more than 220 cities in over 30 countries, the Group focuses on Singapore and China as its core markets, while it continues to expand in markets such as India, Vietnam, Australia, Europe and the USA.
Mr. Lee Chee Koon will also share the company's strategy on sustainable growth, collaboration and opportunities in a post COVID-19 situation.
Mr Manohar KHIATANI, Senior Executive Director at CapitaLand, will also be part of the dialogue and panel discussion.
The dialogue will be moderated by Damien DHELLEMMES, CEO Schneider Electric Singapore, Malaysia and Brunei and VP board member at the French Chamber of Commerce.
CapitaLand also looks forward to collaborating with members of the French Chamber across different business areas.
Programme:
Opening remarks by Damien Dhellemmes as moderator of the conversation
Mr.Lee Chee Koon Presentation on CapitaLand
Discussion and Questions moderated by Damien Dhellemmes
A Q/A session with questions from the Audience
About the Speakers:
Mr. Lee Chee Koon is the Group Chief Executive Officer (CEO) of CapitaLand Group and serves on its board of directors. Since Chee Koon was appointed as President and Group CEO of CapitaLand in September 2018, the Group has moved towards what he calls "CapitaLand 3.0". This term denotes a CapitaLand under its third leadership team since its listing in 2000. It describes a vision for a focused and agile real estate company, that is balanced and diversified across asset classes and geographies, with a strong resolve for growth.
The most noteworthy change that has taken place under Chee Koon's leadership is the Group's acquisition of Ascendas-Singbridge in 2019, which saw CapitaLand diversifying into the business park, industrial and logistics real estate segment and gaining significant scale in India – now one of CapitaLand's core geographies. CapitaLand is currently one of the largest diversified real estate companies in Asia, topping the ranks as Asia's largest real estate investment manager and 9th globally*.
Prior to becoming Group CEO, Chee Koon was Group Chief Investment Officer (CIO) and was responsible for identifying growth opportunities and capital allocation across the Group. Since joining CapitaLand in 2007, he has held several appointments within the Group, which includes his role as CEO of The Ascott Limited (Ascott) and Managing Director for Ascott in China.
Chee Koon was presented with the Business China Young Achiever Award by Singapore's Prime Minister Lee Hsien Loong in 2017, for his contributions towards strengthening Singapore-China relations through Ascott. In 2016, he was also conferred the prestigious National Order of Merit (Chevalier de l'Ordre National du Mérite) by the President of the French Republic for Ascott's contributions to France.
Chee Koon holds a First Class Honours degree in Mechanical Engineering from the National University of Singapore. He also holds a Master of Science degree in Mechanical Engineering from Imperial College London, United Kingdom.

*CapitaLand is the 9th largest real estate investment manager globally in 2019 by IPE Real Assets'
Mr. Manohar Khiatani is the Senior Executive Director of CapitaLand Group. Manohar's responsibilities include assisting the Group CEO in matters relating to organisation integration, group-wide initiatives as well as the India and business/industrial parks businesses. He also oversees the Group Centre of Excellence for Customer Services & Solutions. Manohar is a member of the CapitaLand Executive Committee. Concurrent with his CapitaLand's responsibilities, Manohar is Special Advisor to the Chairman of Singapore Economic Development Board (EDB).
Prior to joining CapitaLand in July 2019, he was the Deputy Group CEO of Ascendas-Singbridge. Before joining Ascendas in 2013, he served as the CEO of JTC Corporation (JTC), the Singapore government's lead agency to plan, promote and develop industrial infrastructure and facilities. At JTC, he spearheaded the development of specialised infrastructure solutions for various sectors and positioned the organisation as an industrial infrastructure innovator.
Prior to joining JTC in 2009, Mr Khiatani was the Deputy Managing Director at the Singapore Economic Development Board (EDB). He joined the EDB in 1986 where he played an instrumental role in the development and transformation of important sectors in Singapore's economy such as aerospace, marine and offshore, electronics, precision engineering, logistics, infocomms and media, and clean technology. He was also in charge of the EDB's operations in the Americas and Europe.
Between 1994 and 1999, Mr Khiatani was the Managing Director of Preussag SEA, a diversified German conglomerate, where he was responsible for developing the group's business in South East Asia. He returned to the EDB in 1999.
Mr Khiatani is a Board Member of several companies listed on the Singapore Stock Exchange. This includes Ascendas Funds Management (S) Limited (the manager of the Singapore-listed Ascendas Real Estate Investment Trust), Ascendas Property Fund Trustee Pte Ltd (the trustee-manager of the Singapore-listed Ascendas India Trust), Ascendas Hospitality Fund Management Pte Ltd and Ascendas Hospitality Trust Management Pte Ltd (the managers of Singapore-listed Ascendas Hospitality Trust) and SIA Engineering Company Ltd. Mr Khatani is also the President designate of EDB Society and sits on various business and government committees.
Mr Khiatani's previous Board Directorships include JTC Corporation, Jurong International, Jurong Port, SPRING Singapore and Media Development Authority.
Terms & Conditions
Full payment is required upon registration.
The link to join the Webinar will be sent to you 1 day prior to the event.
Should you need to cancel after payment has been made, please do so no later than two working days before the date of the event for a refund.
No shows will not be refunded.
For eligible members of the Singapore Business Federation (SBF), this business growth activity qualifies for support under the SBF Rising in Support of Enterprises (RISE) Programme.