Learn more about Sanofi's digital transformation with Artefact, its trusted partner.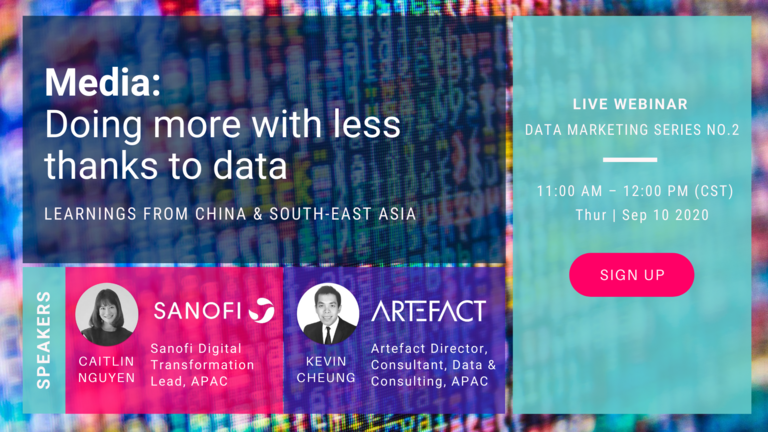 Sanofi, a major Consumer Healthcare industry leader, has embarked on its digital transformation journey with Artefact as its trusted partner since 2018. Having developed a best in class framework for Precision Marketing which leverages the power of data, Sanofi has achieved greater media and business results with less budget in 30 countries worldwide.

During this session, we will answer the following questions:

1. What was the context of change for Sanofi?
2. Where is Sanofi on the Digital Maturity curve today in China and in South-East Asia?
3. How has Sanofi been doing more with less thanks to data?
4. What were the success factors?
5. What is Sanofi's vision for tomorrow?
FEATURED SPEAKER
Kevin Cheung | Artefact Director, Consultant, Data & Consulting, APAC
Kevin is a data enthusiast and marketing fanatic. He has more than 10 years of professional experience assisting brands in Asia Pacific in their data and digital transformation journey with specific focus on the use of data and A.I. in advancing the data marketing maturity of sales and marketing operations.

Caitlin Nguyen | Sanofi Digital Transformation Lead, APAC
Caitlin has been working in Enterprise Digital Transformation for almost 20 years, and has been the Digital Transformation Lead of Sanofi APAC for the past 2 years. Passionate about Data Marketing, Caitlin is pioneering wide scale transformation in Sanofi's APAC markets.
SCHEDULE
| | | |
| --- | --- | --- |
| | | |
| | | |
| | 11:10 Where is Sanofi on the Digital Maturity curve and what was the context for change? | |
| | 11:15 What has Sanofi learnt in Southeast Asia and China so far? | |
| | 11:35 What are the success factors? | |
| | 11:45 What is Sanofi's vision for tomorrow? | |
| | | |
| | | |
| | | |
| | | |
| | | |