As COVID-19 continues to disrupt, have a question that will help you plan better and make smart business decisions for 2021?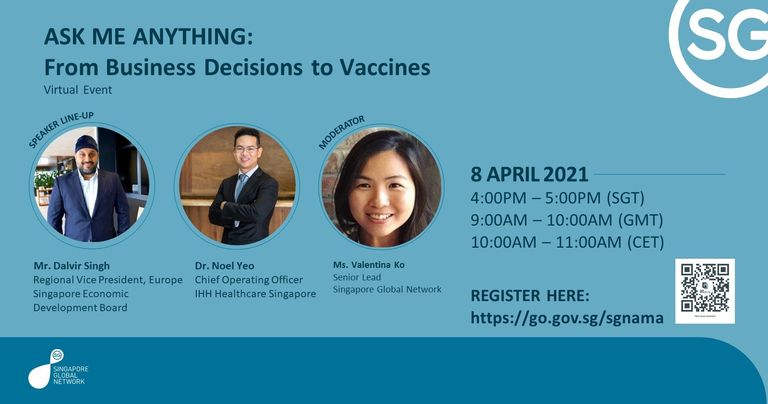 COVID-19 has been relentless. As businesses continue to plan for the precarious future, we are here to support your success in Singapore.
Have questions related to manpower, travel, Stay-at-Home Notice (SHN), business development, grants and initiatives? Or you want to know more about the vaccination programme - types of vaccines, efficacy, roll-out plans, risks, impact on business?
Join our speakers from the frontlines of the world of business and medicine.
View the agenda here.
Speakers
Mr. Dalvir Singh, REGIONAL VICE PRESIDENT, EUROPE
SINGAPORE ECONOMIC DEVELOPMENT BOARD
Mr. Dalvir Singh is Regional Vice President for the Singapore Economic Development Board, overseeing operations in Europe.
He leads the Central European team that is responsible for advancing Singapore's business engagements with companies in the DACH region, the Nordics, Eastern Europe and Israel. Prior to this, Dalvir has held positions in EDB'S Aerospace, Consumer Businesses and Conglomerate's divisions.
Before joining EDB, Dalvir founded and managed his own e-commerce start-up for 5 years. He also has experience working for a venture building firm in Stockholm and a software start-up in Silicon Valley.
Dalvir is married and a father to a 5-month old daughter. He enjoys playing badminton, watching football and musicals.
Dr. Noel Yeo, CHIEF OPERATING OFFICER
IHH HEALTHCARE SINGAPORE
Dr Noel Yeo is the Chief Operating Officer of IHH Healthcare Singapore.
Prior to this role, he had served as the Senior Vice President of Parkway Hospitals Singapore in 2020 and Chief Executive Officer of Mount Elizabeth Hospital since 2017. He began private practice as a family physician and designated workplace doctor at Healthway Medical Group before entering healthcare management as Business Manager of Paediatrics. Later, he started Healthway Mobile, the ambulatory medical division. In 2013, he left Healthway to join Mount Elizabeth Hospital.

He also serves as a volunteer on the Central Singapore Community Development Council, the Singapore Medical Association Complaints Committee and the Society for the Aged Sick Executive Committee.
Ms. Valentina Ko, SENIOR LEAD
SINGAPORE GLOBAL NETWORK
Ms. Valentina Ko leads Singapore Global Network's outreach and engagement in Singapore, with individuals and companies, building connections and creating opportunities.
Valentina enjoys doing things that will create impact for people. Returning to Singapore after finishing her Master's at Columbia University, she is excited to apply her skills to rally the Singapore Global Network community based here and help them create meaningful relationships.