Get some Executive level insights from INSEAD, BNP Paribas and WEConnect based in USA and SG.
As Covid19 continues to impact lives and livelihoods across the globe, it is easy to lose sight of the less obvious but highly insidious effect that the pandemic is having on gender balance. Early evidence suggests that the pandemic may be disproportionately affecting women around the world. Can we avoid having Covid19 disrupt the hard-earned progress towards creating a more gender balanced society and work place? Are there steps we can take now to ensure that we are positioned for post-Covid recovery with a diverse and balanced workforce? Dr Vinika D. Rao, Executive Director of the INSEAD Gender Initiative & Emerging Markets Institute will share insights from the INSEAD Gender Initiative.
This will be followed by a panel discussion on how the pandemic is impacting gender balance in their organizations, with:
Diana SENANAYAKE, Chief Executive Officer for Singapore, BNP Paribas Securities Services
Elizabeth A. VAZQUEZ, CEO and Co-Founder of WEConnect
Speaker and Moderator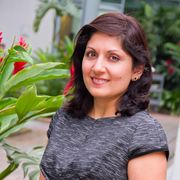 Dr Vinika RAO, Executive Director of the INSEAD Gender Initiative & Emerging Markets Institute, and Director of the Hoffman Global Institute for Business & Society, Asia.
Dr Vinika Rao started her career with an MNC bank and went on to become the Managing Director of an Indonesian conglomerate, before a serendipitous transition to education.
Prior to INSEAD, she was Associate Professor of Strategy at the S.P. Jain Centre of Management, Singapore. Her research is in gender diversity in corporate leadership, specifically, the impact of male support on the self-regulating focus of female managers; millennials & multigenerational influences in the workplace. She is frequently invited to speak on related topics and is quoted / published in leading business publications.
She has an MBA from IIM Bangalore and a doctorate from the Singapore Management University.
Panelists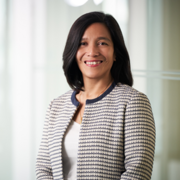 Diana SENANAYAKE, Chief Executive Officer for Singapore, BNP Paribas Securities Services
Diana joined BNP Paribas in June 2018 as CEO of BNP Paribas Securities Services Singapore Branch.
Diana has 22 years' experience in financial services. Prior to joining BNP Paribas she gained experiences in custody, clearing & settlement at Clearstream Banking and lead multiple consulting missions at EY and Deloitte Luxembourg and Belgium focusing primarily on International financial institutions.
The last 13 years Diana worked at RBC Investor & Treasury Services (I&TS) where she held several positions in Global Client Coverage leading global client relationships and headed RBC I&TS Singapore for four years and RBC I&TS Malaysia for three years. Well versed in the client coverage and operations world of securities services, she has also a strong focus on governance and fiduciary matters.
Diana holds a Bachelor Degree of Science (B.Sc.), Management Sciences from London School of Economics and Political Science (LSE) and completed a Senior Executive Programme at the London Business School.
Elizabeth A. VAZQUEZ is the CEO and Co-Founder of WEConnect
Elizabeth A. Vazquez is the CEO and Co-Founder of WEConnect International, a corporate-led non-profit that helps to empower women business owners to succeed in global markets.
WEConnect International identifies, educates, registers, and certifies women's business enterprises that are at least 51% owned, managed, and controlled by one or more women, and then connects them with member buyers. The organization supports and promotes women-owned businesses based in over 100 countries and helps WEConnect International members with over US$1 trillion in annual purchasing power source more from women suppliers.
Ms. Vazquez is the co-author of the book, "Buying for Impact: How to Buy from Women and Change Our World." She sits on the Walmart Global Women's Economic Empowerment Initiative's International Advisory Council, the Procter & Gamble Supplier Diversity Advisory Council, the Global Citizen Women's Committee, and is a Cartier Women's Initiative Awards Jury Member. She "rang the bell" at the New York Stock Exchange in 2019 in support of women business owners around the world, sits on several Boards of Directors, and served on the UN Secretary-General's High-Level Panel on Women's Economic Empowerment.
She has a Master of Arts in Law and Diplomacy from the Fletcher School at Tufts University, where she studied development economics and international negotiation. She is a Woodrow Wilson Fellow and recipient of the 2018 Fletcher Women's Leadership Award for outstanding graduates making a meaningful impact in the world.