The SwissCham's DX Leaders webinar series is part of the recent launch of the SwissCham Digital Transformation.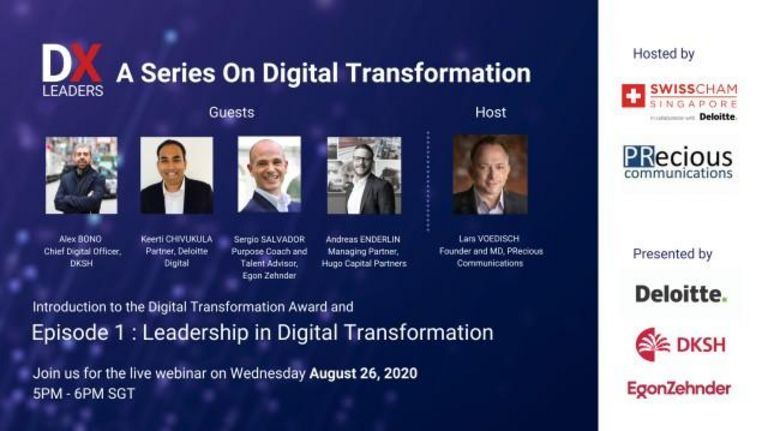 Digital transformation has been an ongoing trend for the past years but the pressure to innovate digitally has accelerated due to the impact of COVID-19. As a consequence companies small to large as well as governments are confronted with an ever increasing pressure to drive digital change.
There is no single definition that accurately encompasses all the dimensions of digital change. Digital Transformation (DX) refers to the cultural, organizational, operational and human changes that impact not only companies but also the regulatory environment and societal shifts as well. In this context Leadership becomes a critical ingredient to initiate, orchestrate and drive change throughout the organisations.
If you want to learn more make sure you follow our DX Leaders Series, a webinar series on digital transformation. Following the recent launch of the SwissCham Digital Transformation Award, digital leaders across a number of industries will meet on a bimonthly basis to discuss relevant topics and share practical challenges around digital change.
In the first episode Andreas Enderlin, Chair of the Digital Transformation Award, will share specific details on the award including the purpose, timeline and the benefits of applying. The introduction will then be followed by a panel discussion regarding Leadership in driving Digital Transformation. The panel will consist of Alex Bono (CDO, DKSH), Keerti Chivukula (Partner, Deloitte Digital), Sergio Salvador (Purpose Coach and Talent Advisor, Egon Zehnder) and Andreas Enderlin (Managing Partner, Hugo Capital Partners) and will be moderated by Lars Voedisch from PRecious Communications.
Join the first DX Leaders Series on Wednesday, 26 August 2020 at 5:00pm!
Agenda
5:00 – 5:05 – Welcome and Introduction by moderator, Lars Voedisch
5:05 – 5:10 – What is the Digital Transformation Award about? – Andreas Enderlin
5:10 – 5:20 – Today's focus – Leadership in digital transformation – Keerti Chivukula (Partner, Deloitte Digital) and Sergio Salvador (Purpose Coach and Talent Advisor, Egon Zehnder)
5:20 – 5:40 – Panel discussion with Alex Bono (Chief Digital Officer, DKSH), Keerti Chivukula (Partner, Deloitte Digital), Sergio Salvador (Purpose Coach and Talent Advisor, Egon Zehnder) and Andreas Enderlin (Managing Partner, Hugo Capital Partners)
5:40 – 5:55 – Q&A session – Lars Voedisch
5:55 – 6:00 – Key take aways – Lars Voedisch
6:00 – End of webinar