In collaboration with Deloitte, the Swiss Chamber of Commerce is pleased to host a discussion to kickstart the topic of digitalisation in healthcare.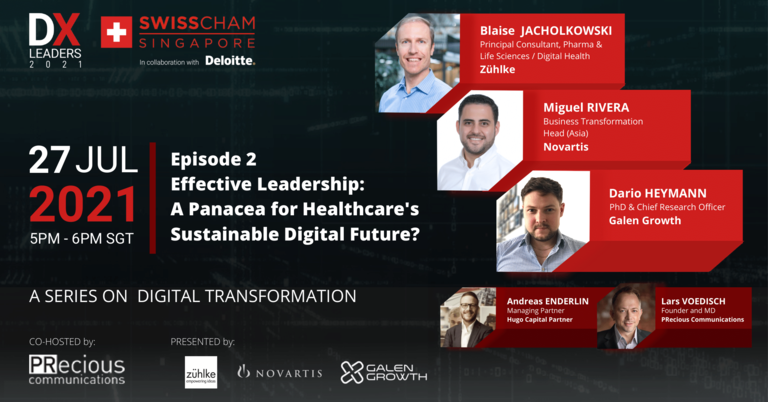 The healthcare industry is standing on the precipice of change – as healthcare leaders face the new challenge of driving sustainable digital transformation. In the last five years, the healthcare industry got a productivity boost through technology solutions that streamlined the process of diagnosing and treating an expanding range of conditions and diseases. But technology in itself is not enough to drive sustainability across the healthcare industry.
As we move into a new era where healthcare providers strive to become lifelong well-being partners, the entire industry must move concertedly towards making healthcare more personal yet accessible to the public. Several hurdles need to be addressed: Silos must be eradicated. The right structures must be set up. And this is where leaders have a new role to play. How, then, should the healthcare industry evolve, as we march forward in Healthcare 5.0?
We invite you to look into the future of healthcare with our upcoming DX Leaders episode – "Effective Leadership: A Panacea for Healthcare's Sustainable Digital Future?"
The episode will delve into how we can build a sustainable future for healthcare 5.0 and how DX leaders can play a pivotal role in helping the healthcare ecosystem better adapt and digitally transform through cycles of disruptions across the healthcare value chain in today's new reality.
The following are the panelists in the second episode:
Blaise Jacholkowski, Principal Consultant, Pharma and Life Sciences/Digital Health, Zuhlke
Miguel Rivera, Business Transformation Head, (Asia) Novartis
Dario Heymann, PhD & Chief Research Officer, Galen Growth
DX Leaders will be hosted by Andreas Enderlin, Chair of Digital Transformation Award and Lars Voedisch, Founder & Managing Director, PRecious Communications.
Join us in the next episode of DX Leaders on Tuesday, 27 July 2021, at 5:00pm SGT!
Agenda
5:00 – 5:05 pm – Welcome and Introduction by moderator, Lars Voedisch
5:05 – 5:10 pm – What is the Digital Transformation Award about by Andreas Enderlin
5:10 – 5:20 pm – Today's focus
5:20 – 5:40 pm – Panel discussion
5:40 – 6:00 pm – Q&A session
6:00 pm – End of webinar
Meet our Speakers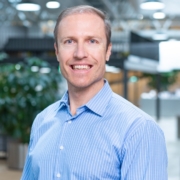 Blaise Jacholkowski, Principal Consultant Pharma & Life Sciences, Zuhlke
As Principal Business Consultant at Zühlke, Blaise Jacholkowski brings with him over 15 years of experience in Life Sciences (Pharmaceuticals, Medtech and Healthtech) in consulting, professional services and as an entrepreneur. He tackled multiple projects in the context of digital, cultural & workforce transformation, and took part in various startup acceleration programs as a jury member in the selection committee or as a mentor. Blaise holds a Master in Microtechnology Engineering with Biomedical specialization from the EPFL as well as an Executive MBA in General Management and Finance.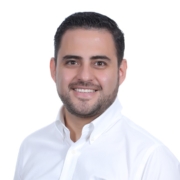 Miguel Rivera, Business Transformation Head (Asia), Novartis
With over 10 years of experience in digital, with local, regional and global roles across Latin America, Europe and Asia in big and mid-size Pharmaceuticals, Miguel Rivera is passionate about improving patient outcomes and customer experiences with data and technology. As the Business Model Transformation Head at Novartis, he leads the digital and business transformation in Asia, drives internal transformation through capability building, cultural change and open innovation. Miguel also manages the Novartis' Digital Innovation Lab for the APAC-MEA region.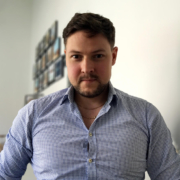 Dario Heymann, Chief Research Officer, Galen Growth
Dario is Chief Research Offer and founding member of Galen Growth. He started the building of HealthTech Alpha; the world's only database and venture analytics platform dedicated to Digital Health and leads its continuous development. HealthTech Alpha, remains the only true analytics platform for digital health, delivering accurate and regularly curated information to investors, industry innovation leaders and startup CxOs.
As well as managing the development of the analytics platform, Dario leads the research, market intelligence and client missions which helps inform and improve organisations' overall digital health strategy by grounding decisions. Dario helps organisations grow by providing insights and comprehensive sources, vital to monitor the pulse of the ecosystem and accelerate business strategies.
Prior to Galen Growth, Dario has worked in drug discovery mainly focused on the development of novel drugs in oncology, both in big pharma and academia in Singapore, China and Germany. Dario holds a doctorate in Material Science and Engineering and Masters in Material Science & Engineering, Biochemistry, and Molecular Biology.
Meet our Co-Moderators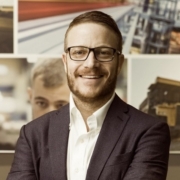 Andreas Enderlin, Founder & Managing Partner, Hugo Capital Partners
Andreas is the Founder & Managing Partner of Hugo Capital Partners, an Investment and Advisory firm focused on digitally transforming Industrial and B2B companies in ASEAN. Previously, he acted as the Regional President ASEAN of Schaeffler and was a member of the Executive Management Board (EMM).
Andreas is actively engaged as a mentor at the German Accelerator SEA, advising Private Equity funds & Startups in SEA/AP as well as being an active investor himself. In addition, he is a member of the Singapore Institute of Directors (SID) and Chair of the SwissCham Digital Transformation award.
Before his move to Asia Andreas held various corporate leadership roles at Siemens, the 3M Company and Straumann in General Management, M&A and Management Consulting and worked as a COO for a AI/Data Analytics startup which he successfully excited to a strategic investor.
He then spent a number of years working for a Private Equity fund pursuing a distinctive Buy and Build strategy with a focus on operational value creation.
Andreas's core interests and experiences are around IoT, Deep Tech, Robotics, B2B, Private Equity and helping companies and people thrive. He is fascinated by nature and travelling and is a passionate runner.
He graduated with an MBA from the University of St. Gallen (HSG) and attended various executive courses at IMD (Lausanne), INSEAD (Paris), LBS (London) and Kellogg (US).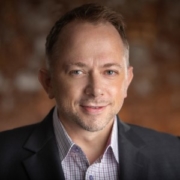 Lars Voedisch, Managing Director, Principle Consultant (PRecious Communications)
Lars has over 20 years of experience in growing, managing and defending leading brands' reputation with a strong background in corporate affairs and thought leadership.
Based on his strong acumen in integrated communications and leadership, he drives impactful communications strategies that contribute to companies' growth objectives. Lars has worked with some of the most exciting brands in their respective industries, incl. NBC Universal's Downton Abbey, Coca Cola, DBS, Eu Yan Sang, Evernote, Huawei, Intel Security, Lenovo, Porsche, P&G, Standard Chartered Bank or Yahoo!.
Lars will be providing strategic counsel and crisis communications.