Experience Week 2021 — Join our virtual events for MBA/EMBA programs from wherever you are!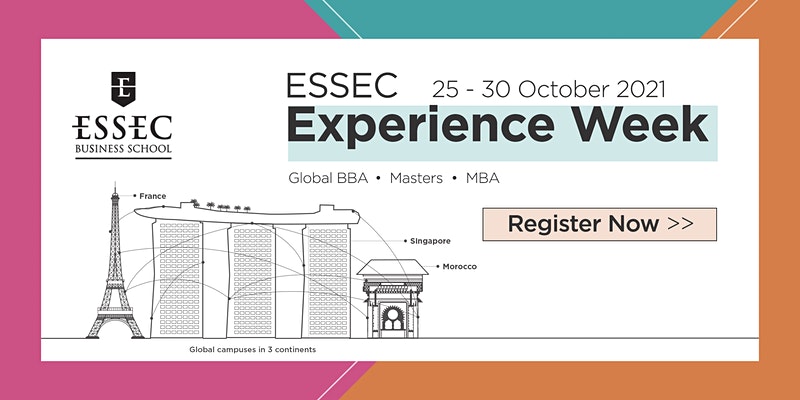 Gain career advice and industry insights via panel discussions chaired by industry professionals and ESSEC alumni from leading MNCs such as TikTok, Standard Chartered Bank, and Philips.

Experience our top-ranked programs via masterclasses and info sessions to discover how you can study in France and Singapore to gain strong global exposure, professional networks, and career outcomes.
As part of our continuous support to FCCS in nurturing high-impact leaders, ESSEC Asia-Pacific is providing a tuition grant* for eligible FCCS members who are interested in joining the ESSEC & Mannheim EMBA Asia-Pacific program this coming October 2022 intake. This exclusive grant can cover up to 10% of the program tuition fee.
Introduction to ESSEC Business School, Asia-Pacific
Monday, 25 October 2021
7:00pm - 7:30pm (GMT+8)
Speaker: Prof. Aarti Ramaswami, Deputy Dean, ESSEC Asia-Pacific
ESSEC - FCCS C-Suite Dialogue Series: The art of clienteling: How do we engage the consumers of tomorrow?
Tues, 26 Oct from 4:00 to 5:00 pm (GMT+8)
How can luxury companies evolve clienteling - a retail technique to foster long-term customer relationships - in their business strategies? Learn more in this industry dialogue co-presented by the French Chamber of Commerce and hosted by Sonja Prokopec, LVMH Chaired Professor, ESSEC Business School
Panel speakers:
- Hugues de Pins, Managing Director, South East Asia and Australia, Van Cleef & Arpels
- L'Oreal (TBC)
Asia's luxury innovations: The scent of success
Tues, 26 Oct from 7:30 to 9:00 pm (GMT+8)
As the demand for luxury fragrances continues to rise, how do brands innovate to stay ahead? Join this Experience Week session to find out more.
Moderated by: Denis Morisset, Luxury Brand Management Professor, ESSEC Business School
GMBA Alumni Panelists:
- Pilsoo Shin, Retail Director, Guerlain
- Ivy Lan Wu, Associate Director, Estee Lauder
China- Gong Jingqi, Marketing Director of Colours, Intercos China
- Tyngyu Fu, L'Oreal China, Giorgio Armani Beauty & CDO Team
- Lin Zhang, Chief Communication Officer, Documents
- Ana Carissa Daez, GMBA Class of 2020
ESSEC & Mannheim EMBA Alumni Perspectives
Thurs, 28 Oct from 7:30 to 8:30 pm (GMT+8)
Envision the peak of your career. Join our alumni from the ESSEC & Mannheim EMBA program and discover their journey towards the height of their careers.
Moderated by: Cedomir Nestorovic, Geopolitics Professor, and Academic Director of the ESSEC & Mannheim EMBA Asia-Pacific program
EMBA Alumni Panelists:
- Carisa Mann, Managing Director of Place Solutions Pte. Ltd., and Founding Partner, Growth Squad Consulting
- Wesley Alves, VP & Managing Director of Armor
- Timothy Kooi, Business Unit Digital Manager, International Fuels Lubricant, Chevron
Managing your finances and Management Aptitude Test - GMAC and Prodigy Finance presentation
Sat, 30 Oct from 10:00 am to 11:00 am (GMT+8)
Learn how to ace your GMAT exam and manage your financing options for your postgraduate studies.
Presenters:
Mayank Sharma, Country Head, Prodigy Finance
James Barker, Market Development Manager, GMAC