France Reception Event in conjunction with the visit of French Minister of the Sea, M Herve Berville, during the Singapore Maritime Week & Sea Asia.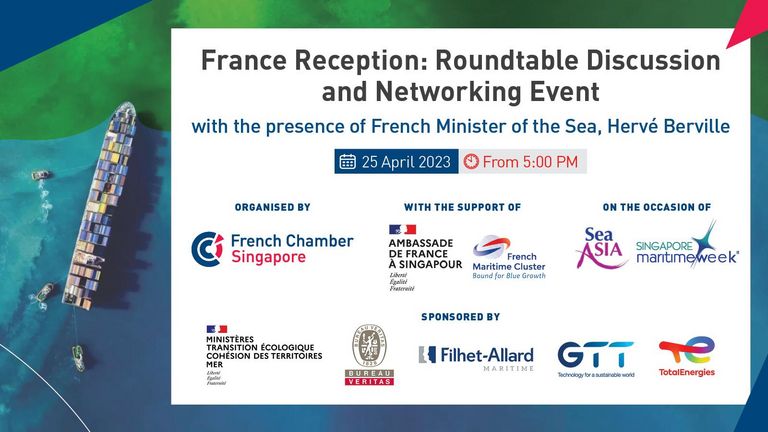 On the occasion of the Singapore Maritime Week and the Sea Asia from April 25th to April 27th, the French Chamber of commerce along with the French Embassy in Singapore, the Maritime Committee is organising a roundtable discussion to showcase the French Maritime Sector actions in its race towards decarbonisation. This event will be the opportunity to invite key experts from the industry to share technological advances and innovation involved in the energy transition, such as alternative fuel, new digital maritime services, promotion of green technologies, efficient and safe navigation practices.
During this event, French Minister of the Sea, Mr. Hervé Berville will share the commitment and increasing role of France in the international maritime sector and will address the necessity to strengthen energy transition in the maritime industry. French Minister will also reiterate the importance of a dialogue and cooperation with other States and international institutions.
Agenda
From 5pm-5.30 pm : Welcoming attendees
From 5.30pm – 5.40pm : Address from Her Excellency Ms Minh-di TANG
Ambassador of France to Singapore
From 5.40pm- 6pm : Address from French Minister of the Sea, Mr. Hervé Berville
From 6.00pm- 6.45pm : Roundtable discussion with key experts on maritime decarbonisation
From 6.45pm to 7pm: Q/A session
7.00pm : Cocktail Reception and Networking
8:30 pm: End of the event
Speakers
Mrs. Caroline Yang, President of Singapore Shipping Association (SSA) and Chief Executive at Hong Lam Marine
Mr. David Colson, Commercial Director at Gaztransport & Technigaz (GTT)
Mrs. Louise Tricoire, VP Marine Fuels at TotalEnergies Marine Fuels
Mr. Matthieu De Tugny, Executive Vice President at Bureau Veritas Marine & Offshore
Mr. Tham Wai Wah, Chief Engineer (Engineering and Project Management), Chief Sustainability Officer (Sustainability Office) at Maritime and Port Authority of Singapore (MPA)
CMA CGM – Speaker to be confirmed
Moderated by Mr. Pierre Carassus, Co-Head of Maritime Industries, Asia Pacific at Société Générale
Terms and Conditions
By invitation only
Please note that photographs and videos may be taken during the event for news and publicity purposes.