Join our foundational course for insights on global and regional sustainability trends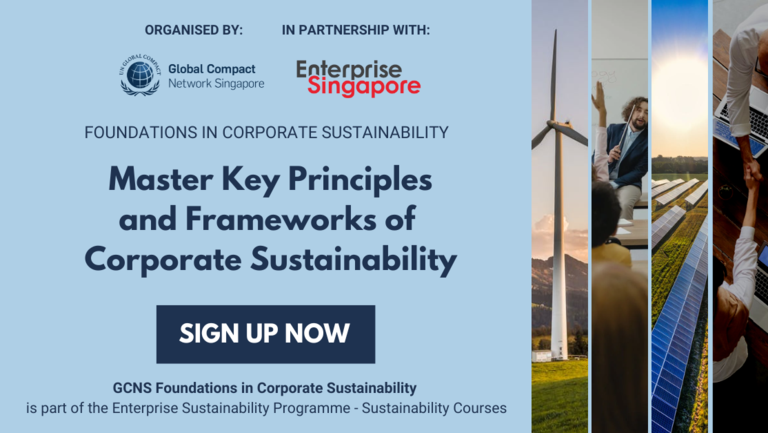 Globally, businesses are recognising the opportunities and risks arising from sustainability-related topics.
In Singapore, the movement towards sustainability has accelerated on multiple fronts, including the introduction of new regulations and the launch of the Singapore Green Plan. How can you then build a resilient enterprise and generate business value for stakeholders while mitigating risks?
Global Compact Network Singapore's Foundations in Corporate Sustainability is an introductory course for working professionals, which will provide an overview of global and regional sustainability trends and an understanding of how sustainability can be applied to improve business practices and enhance existing work functions. Spanning environmental, social and governance (ESG) topics. This 2.5-day course is part of the ESP Sustainability Course series designed to provide foundational knowledge, practical guidance, as well as tools and resources to help companies, especially SMEs, to jumpstart their sustainability journey.
Upon completion of the course, participants will also have the opportunity to join the UN Global Compact community and tap onto additional resources.
Course Structure
Module 1: Foundations in Corporate Sustainability
Understand what sustainability is and how it drives business competitiveness. Day 1 will provide insight into the global and local drivers accelerating sustainability and how businesses can identify and understand the company's environmental, social and governance (ESG) related opportunities and risks. In addition to exploring how material issues can impact business strategy as well as the importance of Governance, the session will introduce how-to frameworks such as the UN Global Compact Management Model and easy to use onboarding tools such as Responsibility Index Communicator for Enterprises (RICE) Tool.
Module 2: Operationalisation of Sustainability into Business Practices
Building on the Environmental and Social topics, Day 2 will explore stakeholder expectations, measurable indicators and potential action plans and goals that can be undertaken to become more sustainable. Under the Social agenda, participants will be introduced to human and labour rights concerns which are especially prevalent in supply chains. The Environmental segment will unpack global and local concerns including topics such as climate change and decarbonisation as well as the impact of Singapore's Green Plan 2030. Participants will also be introduced to the Carbon and Emissions Recording Tool (CERT) to learn how to take first steps in understanding their emissions.
Module 3: Getting Started in Sustainability Reporting
Building on in-class activities in the first two days, this session will guide participants on how to strategically communicate performance and address stakeholder information needs. Understand the landscape of sustainability reporting, assurance and certifications; mobilise tools provided in the course (RICE and CERT) to kickstart reporting as well as tap onto reporting frameworks such as the GRI Universal Standards.

Learning Activities: The classroom learning will be facilitated by experienced industry professionals. This will be complemented by guided use of tools to accelerate practical application and peer learning opportunities.
Certificate: Upon completion, participants will be awarded a certificate of completion by Global Compact Network Singapore.
What will you learn?
Understand key principles and best practices in corporate sustainability. Obtain hands-on experience in applying sustainability frameworks and tools to better your business. Uncover new business opportunities and drive value creation through the Environment, Social and Governance (ESG) lens.
Who should attend?
This course is best suited for senior and middle management roles in SMEs, businesses that are new to sustainability, and industries impacted by climate change and enhanced regulations.
Have questions? Get in touch: training@unglobalcompact.sg