The 7th edition of the HFE Conference is jointly organised by EHL Campus (Singapore) and NUS-Institute of Real Estate & Urban Studies.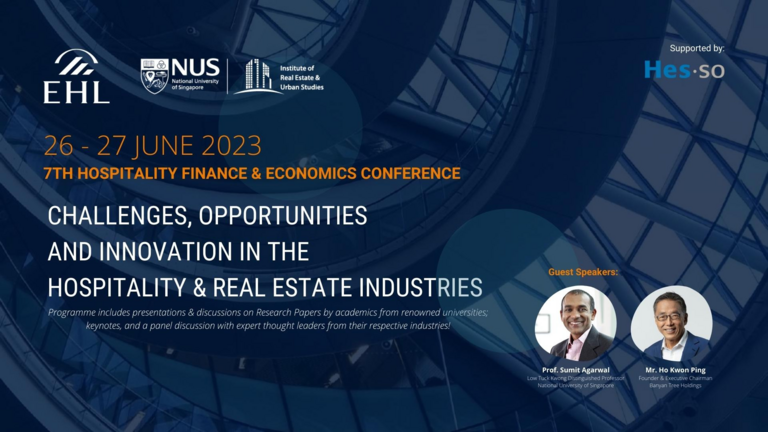 The 7th edition of the Hospitality Finance & Economics (HFE) Conference will take place in Singapore for the first time from 26 – 27 June 2023, and is jointly organised by EHL Campus (Singapore) and the National University of Singapore's Institute of Real Estate & Urban Studies, supported by the HES-SO. The annual HFE Conference is a forum and platform for industry experts and academics in the hospitality finance, economics and real estate fields to gather and share their knowledge and insights to investors, policy makers and consumers in hospitality and beyond.
The theme of HFE 2023 is "Challenges, Opportunities & Innovation in the Hospitality & Real Estate Industries". Apart from presentations on research papers by academics from various universities, we have invited distinguished guest speakers to join us at the conference:
Keynote by Prof. Sumit Agarwal, Low Tuck Kwong Distinguished Professor & Head of Department for Real Estate at NUS; and
Fireside Chat with Mr. Ho Kwon Ping, Founder & Executive Chairman of Banyan Tree Holdings, moderated by Dr. Seek Ngee Huat, Chairman of GLP IM Holdings and IREUS
There will also be an industry panel featuring thought leaders from the Academic, Real Estate and Hospitality industries where each of these experts will share on the challenges, opportunities and innovation in their respective industries before gathering together for a panel discussion. Currently confirmed for the panel are:
Mr. Steve Carroll, Head of Hotel & Hospitality, Senior Managing Director, CBRE | Capital Markets, Asia Pacific
Ms. Chin Fen Eu, CEO, Frasers Hospitality Trust
Dr. Masaki Mori, Associate Professor at EHL,
Mr. Tasos Kousloglou, CEO – Hotel Division at Sun Hung Kai Properties.