How brands are leveraging WeChat Mini-program in their customer journey to create unique and seamless digital experiences ?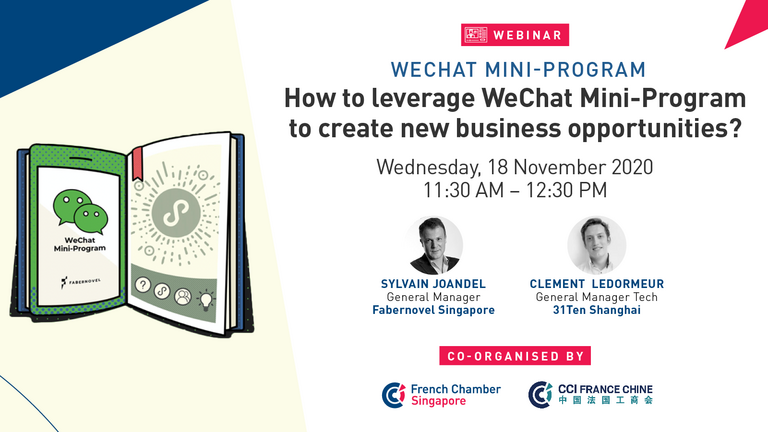 Launched in 2017, there are now more than 4 millions WeChat Mini-Programs (x2 the total number of Apps on the AppStore) used by 450 millions active users.
Ubiquitous in the global chinese consumers journey, it is critical to understand how B2C and B2B brands can leverage WeChat MP to:
- Design unique and seamless digital experiences e.g. omnichannel customer experience, gamification, live streaming, augmented / virtual reality (AR / VR), etc;
- Create new business opportunities in retail & e-commerce (smart retail, social commerce, etc);
- Engage, re-engage and create loyalty (data collection, segmentation, CRM, etc);
- Connect customers and staff through WeChat work.
During this keynote, our speakers will introduce WeChat MP ecosystem, analyze and illustrate the mechanism of B2C & B2B WeChat MP through case studies.
About the speakers:
Clément LEDORMEUR, General Manager at 31Ten
Clement is General Manager and Partner at 31Ten, a 15 person independent boutique digital agency based in Shanghai which has been operating for 4 years and has built fantastic digital solutions meeting our clients needs and objectives for the Chinese market which is highly driven by the WeChat ecosystem. As a Tencent Recommended Partner, 31Ten is now officially recognized by Tencent for their experience building solutions for Fortune 500 on WeChat such as LVMH, Shiseido, Richemont, Nike, Christie's, BASF, etc...
He has more than 8 years of experience in China and has conducted over 50 projects with international brands or groups. He has relevant expertise with System Integrations as well as CRM and other 3rd parties integration. He is also really passionate about E-commerce and Data and is often featured and sharing his knowledge on Bloomberg, Jingdaily, Technode as well as being invited as Keynote Speaker to many events.
In 2014, he joined altima / Accenture Interactive and was promoted as Executive Director helping the agency to grow from 5 to 50 people within just 3 years.
Sylvain JOANDEL, General Manager | Singapore at FABERNOVEL
Sylvain has over 12 years experience in consulting and digital marketing in the APAC region. After 9 years in mainland China, he relocated to Singapore to expand FABERNOVEL footprint in South-East Asia. He supports MNCs in their digital transformation with strategic advisory & digital leadership programs to engage with their teams & drive cultural change. He is also Co-President of the Marketing & Communication Committee of the French Chamber of Commerce in Singapore. He is frequently invited as keynote speaker in conferences in SE Asia.
Previously as group director for China, he helped global companies in the luxury, fashion, beauty and travel industries set up their digital marketing operations on Chinese platforms. He was also lecturer at Condé Nast Fashion & Design Center for their digital program in Shanghai.
Sylvain started his career as internal consultant for the French Ministry of Foreign Affairs and contributed to the organization of high scientific level summits during the World Expo 2010 in Shanghai. In 2012, he joined Reflex, a multinational digital creative agency, as CTO, to lead major digital projects for international companies and he was appointed Managing Director of Reflex Shanghai in 2014.
Terms & Conditions
For members only
Full payment is required upon registration.
The link to join the Webinar will be sent to you 1 day prior to the event.
No shows will not be refunded.
In partnership with