Join us to learn about new trends and innovative solutions being deployed in Industry 4.0 in Singapore!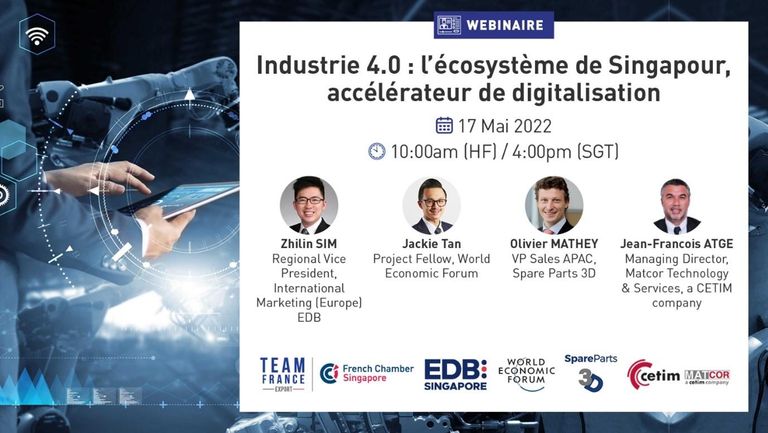 Singapour a développé une base industrielle diversifiée, occupant une position de leader dans des secteurs tels que l'aéronautique, l'électronique, la chimie (dont pétrochimie), la pharmacie, les sciences biomédicales et l'ingénierie de précision.
En tant que 4ème exportateur mondial de produits de haute technologie, le secteur manufacturier de Singapour est devenu une puissance économique régionale. Une composante importante de ce secteur - les semi-conducteurs électroniques - a attiré des investissements étrangers substantiels, ainsi qu'une production et des emplois à valeur ajoutée, contribuant à plus de 25 % de la production manufacturière locale.
Pôle dynamique pour la production à haute valeur ajoutée, l'écosystème de Singapour en fait l'une des meilleures places au monde pour concevoir, tester et mettre en œuvre de nouvelles stratégies de production.
Rejoignez notre événement en ligne co-organisé par l'Economic Development Board (EDB) pour en savoir plus sur les nouvelles tendances et les solutions innovantes déployées dans l'industrie 4.0 à Singapour.
Singapore has developed a diverse industrial foundation, leading in fields such as aeronautics, electronics, chemicals (including petrochemicals), pharmaceuticals, biomedical sciences, and precision engineering. Singapore's environment makes it one of the greatest places in the world to design, test, and implement novel production strategies, as it is a dynamic hub for high-value-added production.
Join our webinar co-organised with the Economic Development Board (EDB) to learn about new trends and innovative solutions being deployed in Industry 4.0 in Singapore.
Speakers :
Zhilin SIM, Regional Vice President, International Marketing (Europe) EDB
Jackie TAN, Project Fellow, World Economic Forum
Olivier MATHEY, VP Sales APAC, Spare Parts 3D
Jean-Francois ATGE, Managing Director, Matcor Technology & Services – a CETIM company
Terms & Conditions:
En vous inscrivant à ce webinaire, vous acceptez de recevoir de la Chambre française de Singapour et de l'EDB des invitations à d'autres événements ou des informations marché/ By registering for this webinar, you agree to receive invitations to other events or market information from the French Chamber of Singapore and the EDB.
Vous recevrez par email, un jour avant l'événement en ligne, le lien pour vous connecter au webinaire/ You will receive an email one day prior to the online event with a link to join the webinar.