A collaborative initiative powered by the French Chamber, the Singaporean-German Chamber and the Spanish-Singaporean Chamber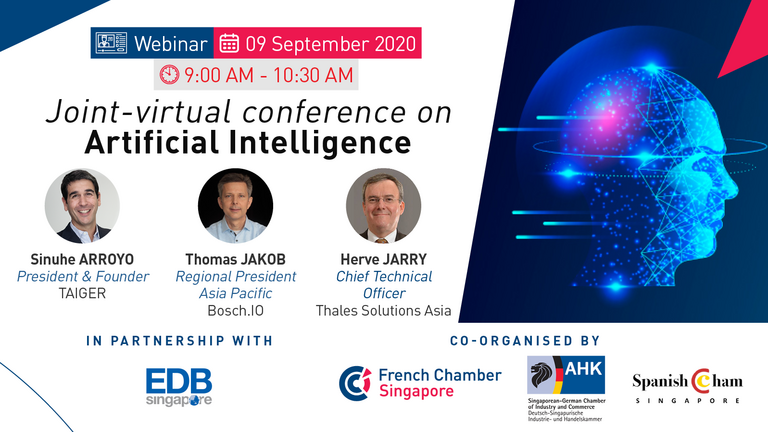 The French, German and Spanish Chambers of Commerce in Singapore are pleased to bring you this exclusive virtual conference on Artificial Intelligence which will discuss many facets of Singapore's AI Strategy and how three European organisations are contributing towards it.
Apart from digitization, the next technological phenomenon which is making huge waves across Europe and Asia is Artificial Intelligence (AI) - the capability to simulate intelligent, human-like behaviour in computers. We have already experiencing AI in several industrial sectors – manufacturing, food, healthcare, e-commerce and financial technology. Not only will our lives be transformed in the way we eat, live and work, it will also pose a golden opportunity for Singapore to open new frontiers of growth and transcend our geographical limits. But what does this mean for Singapore, moving forward?
In partnership with Economic Development Board, this virtual conference brings together three renowned European companies (Bosch.IO, Thales and Taiger) which are spearheading AI projects in order to help Singapore realise its vision. During this webinar, the audience will be split into 3 breakout rooms. Each attendee will be able to choose when registering one of the following topics:
How to Escape the Matrix – Ethical Considerations in Artificial Intelligence
AI: Myths, truths and misunderstandings
Can we trust AI?
Each speaker will lead one breakout room to engage in a discussion with his audience.
About the Speakers
Sinuhe ARROYO, President & Founder at TAIGER
Sinuhé Arroyo is the Founder and Chief Executive Officer of TAIGER, a global Artificial Intelligence company headquartered in Singapore with offices in five other countries across Europe, Latin America and Asia-Pacific.
He is a Committee Member in the Info-Communications Media Development Authority (IMDA) that defines and drives the Technology Roadmap in Singapore, and in the AI Chapter of the Information Technology Standards Committee. He is also an Executive Member of both, the AI Chapter launched by the Technology Trade Association SGTech and the Personal Data Protection Commission in Singapore (PDPC). He supports the Spain community in Singapore as the President of Spanish Chamber of Commerce (Singapore).
Sinuhé Arroyo is a sought-out speaker and has extensive research experience in the field of Artificial Intelligence, with numerous international publications in research journals and books. He is also a TEDx speaker on AI.
He holds a Ph.D. in Artificial Intelligence from the University of Innsbruck (Austria) and an MBA from the University of Chicago Booth School of Business.
He self-taught programming at the age of 10 years old and has authored 5 patents.
Thomas JAKOB, Regional President Asia Pacific at Bosch.IO
Thomas Jakob is Regional President, Asia Pacific of Bosch.IO, the digitalization and IoT division of the Bosch Group. He has been leading the company's regional team since 2012 delivering Internet-of-Things (IoT) solutions to various sectors, including home and building, smart cities, manufacturing, transportation, agriculture and others. Thomas has over 25 years of experience in the ICT industry in Europe and Asia in management, marketing, finance, and business development roles.
Prior to joining Bosch, he founded a consulting firm providing strategy advice to high-tech companies, served as regional CEO of T-Systems, and worked in a variety of roles for Deutsche Telekom in Asia Pacific as well as for Hewlett Packard and Nortel in Europe.
Thomas holds a master's degree in Electrical Engineering from the University of Applied Sciences in Dieburg, Germany, and an MBA from the University of Chicago, Booth School of Business
Herve JARRY, Chief Technical Officer, Thales Solutions Asia
Since February 2017, Hervé JARRY serves as CTO & VP Technical of Thales Singapore, in charge of Research & Technology & Innovation and of the Digital Transformation for the activities of Thales in Singapore (Security, Transportation, Avionics, Defense...). Prior to his current role, Hervé JARRY was driving the Engineering transformation of Thales Group Products and implemented PLE (Product Line Engineering) approaches across the Group Product Lines portfolio. From 2006 to 2010, he managed the Program Division of Samsung Thales Co. Ltd (STC), a JV between Samsung Electronics and Thales based in South Korea.
Hervé JARRY has previously held management positions in France and in Germany in the Radar domain for Thales and formerly Thomson-CSF, which he joined in 1992.
He began his professional career in the French Defense Procurement Agency (DGA) in 1984. He is a graduate from Ecole Polytechnique (X1979, MSc) and from ENSTA (1984, M.Eng); he also holds a Master's degree in Business & Strategic Management from ICG Paris (1992).
Terms & Conditions
By registering to this webinar, you agree to receive from French Chamber in Singapore and EDB future invitations to other events or market updates
Full payment is required upon registration.
The link to join the Webinar will be sent to you 1 day prior to the event.
Should you need to cancel after payment has been made, please do so no later than two working days before the date of the event for a refund.
No shows will not be refunded.
Schedule
Wednesday 9 September 2020
09:00 - 09:05
Opening Remarks
09:05 - 09:25
Introduction by LIM Tse Yong, Vice-President, Europe Desk, Economic Development Board Singapore
Remarks by Thomas JAKOB, Regional President Asia Pacific, Bosch.IO
Remarks by Sinuhé ARROYO, Founder and CEO of Taiger
Remarks by Hervé JARRY, Thales Solutions Asia
09:25 - 09:55
Breakout rooms:
- How to Escape the Matrix – Ethical Considerations in Artificial Intelligence
- AI: Myths, truths and misunderstandings
- Can we trust AI?
09:55 - 10:15
Reconvene in Main Conference Room
Breakout rooms wrap-up by the speakers
Closing speech by EDB